The Legend of Zelda: Tears of the Realm harks back to the classic Zelda formula in many ways. One way to do this is to return uses of items that have a lot to collect, learn, and use in different scenarios.
RELATED: Things To Do Early In Zelda: Tears Of The Realm
It can be fused to weapons and shields and attached to the tips of arrows, but sometimes just throwing something with all your might won't win. In and out of combat, many items have a variety of uses, and these items are the best. Keep stocking up on your adventures in Hyrule.
10
splash fruit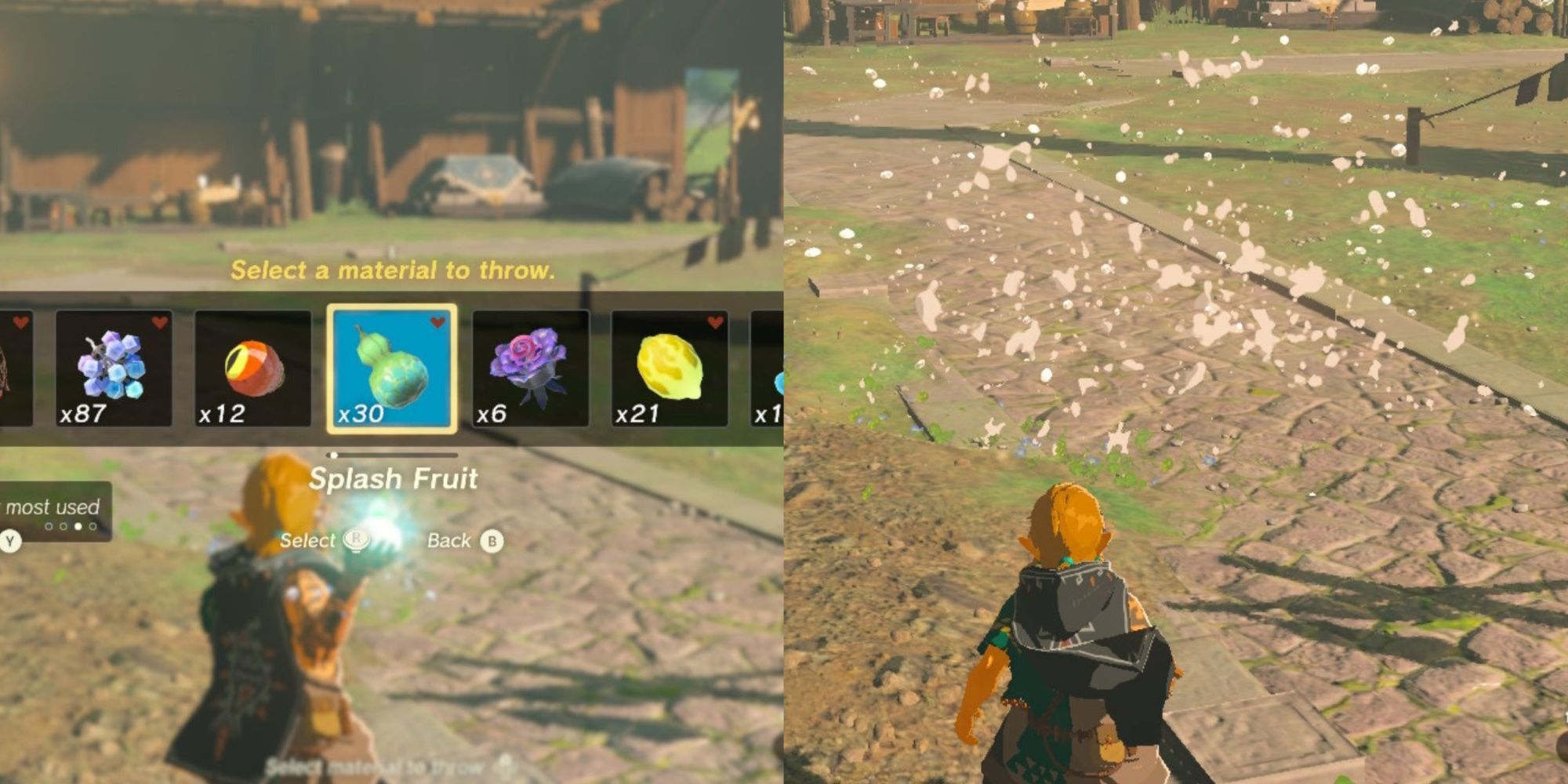 This is a simple item and has one major use only in a single specific questline. Other than that, it's essentially a water balloon you can throw at things. But who doesn't like a good water balloon? Unless, of course, you are the one hit.
For a story, to put out a fire, or to terrorize the people of Kakariko Village, Splash Fruit is a fun item. You can see them growing all over Hyrule, so stock up on these whenever you see them.
9
shock fruit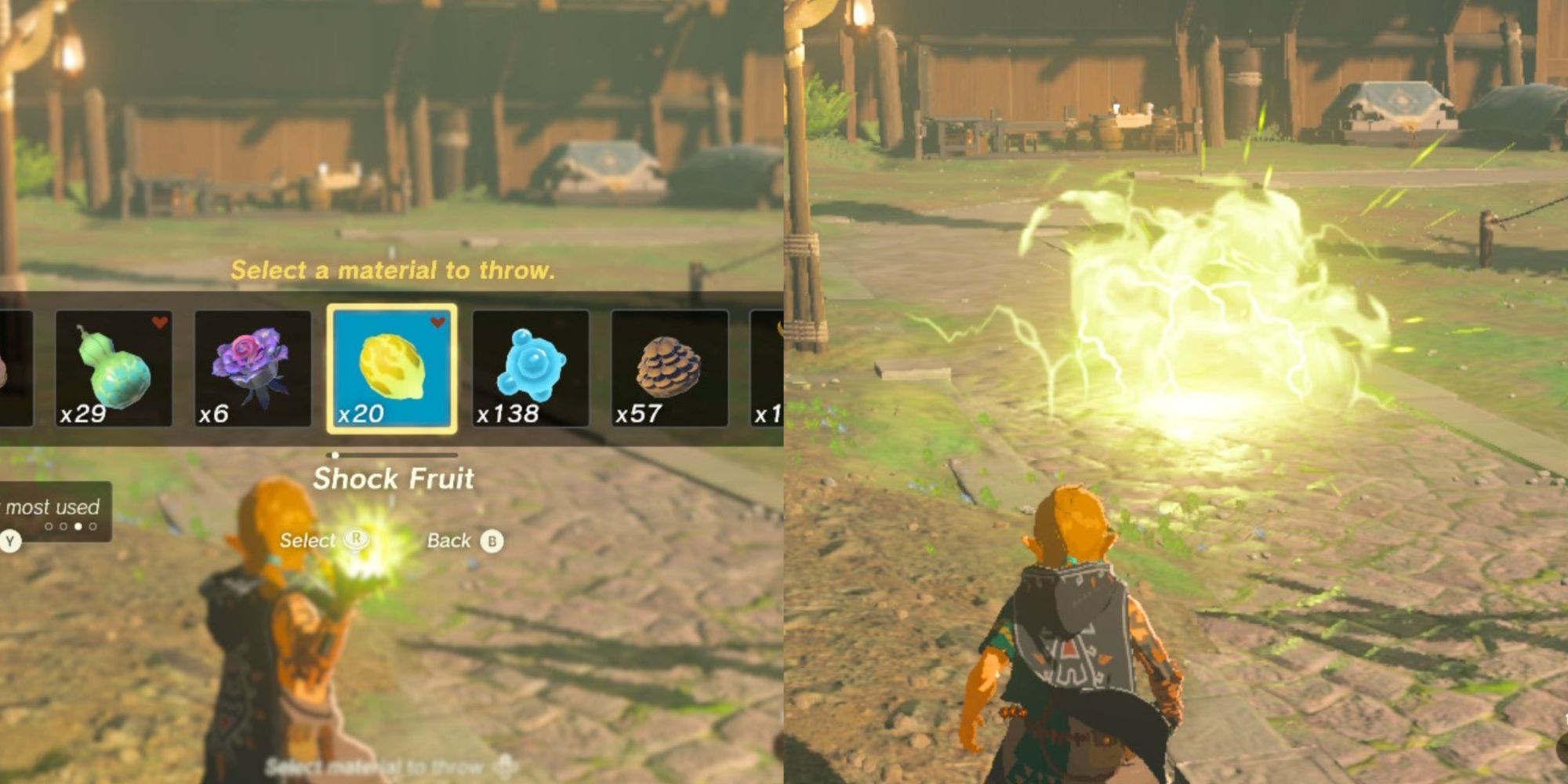 When Splash Fruit pops out, it's not hard to guess what Shock Fruit is doing. When thrown at an enemy, it acts like an electric bomb, briefly stunning them and possibly even causing them to drop their weapons.
Throwing it into water gives it a much wider area of ​​effect, perfect for foes like Lizalfos. Similarly, the effect is enhanced when used in the rain. Don't be shocked in the process.
8
ice fruit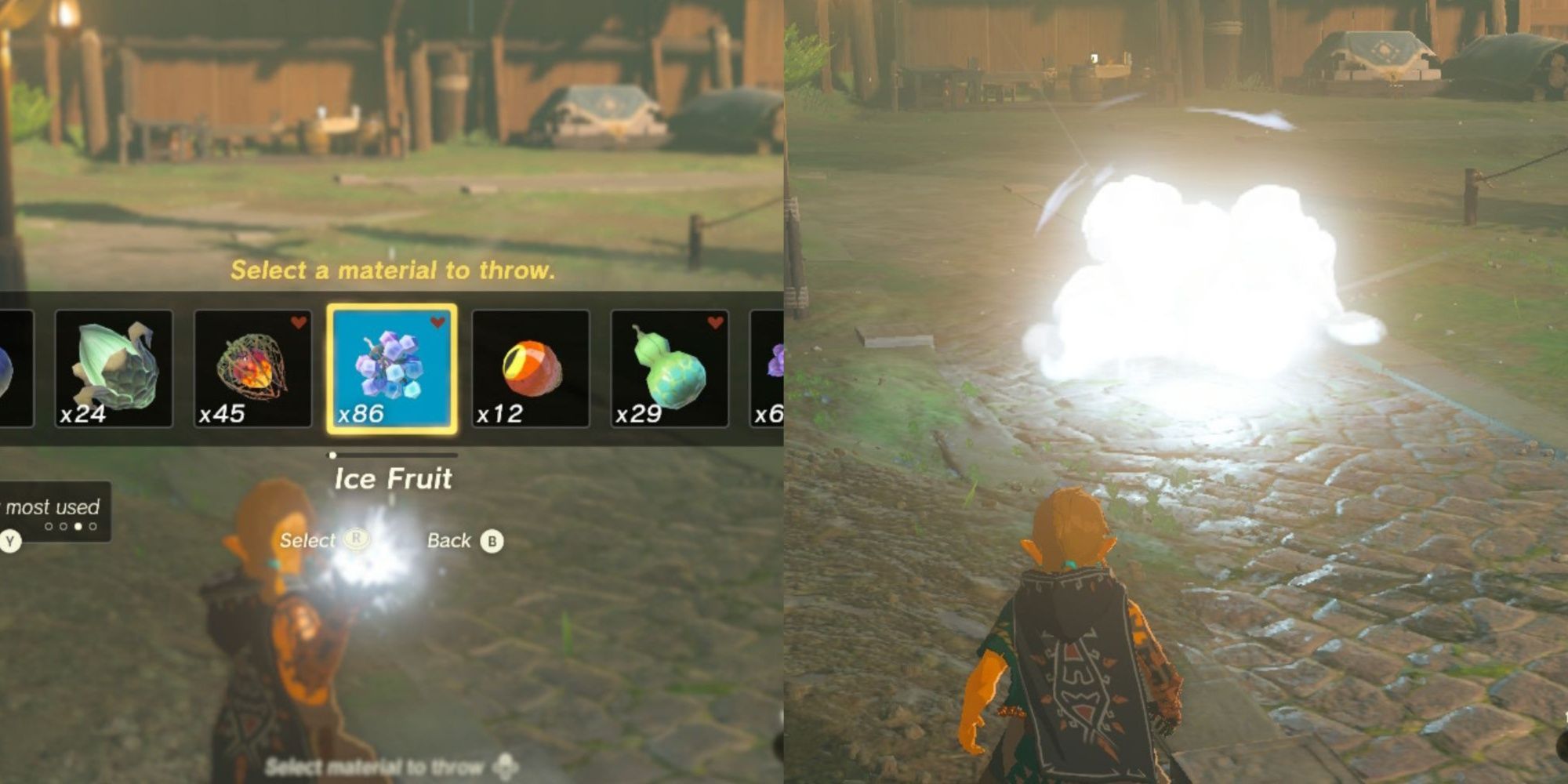 So, here's a little fruit pattern. But in the wild, you have to throw in what you can find. If you could find ice fruit, how would you say no? Ice Berries, like the previous fruit, inflict Freeze on enemies, freezing them in place and dealing small damage.
RELATED: The Legend of Zelda: Tears of the Realm – Best Items to Fuse
This can be very useful if you want to take an enemy out of combat for a while or if you want to freeze them and attack them with a powerful attack to break the ice with critical damage. Against larger enemies like Moblins or Boss Bokoblins this can be a great strategy.
7
muddle bird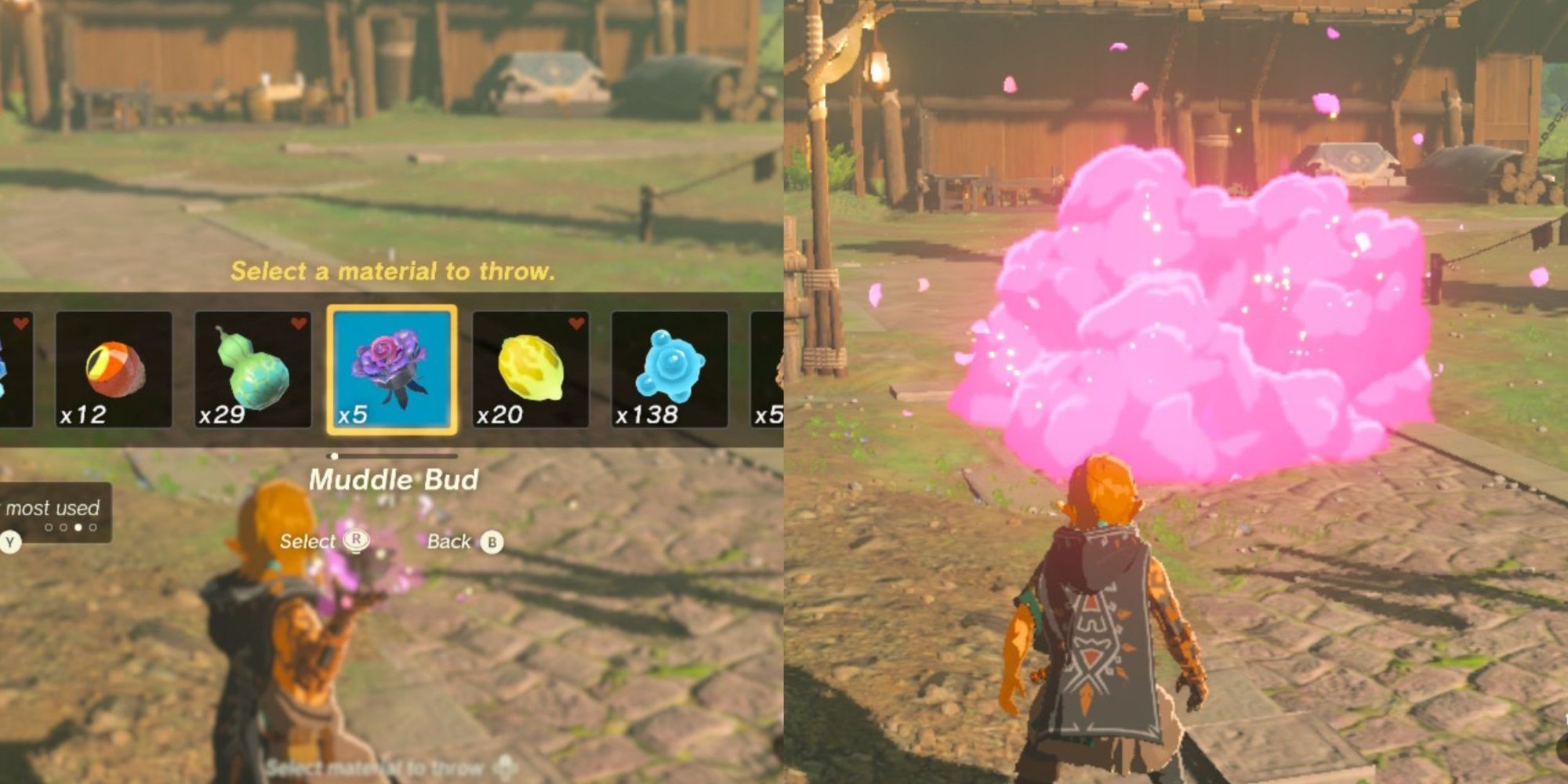 We move out of the fruit category and onto the Muddle Bud flower. This is one item you'll find a lot in Depths and should definitely get in the habit of using in the game, especially against more powerful enemy groups.
Muddlebirds emit small pink clouds when thrown (or shot with arrows). Enemies caught in this radius are confused for a period of time, attacking nearby allies and other monsters. But be careful as they will still attack you if only you can see them.
6
fire fruit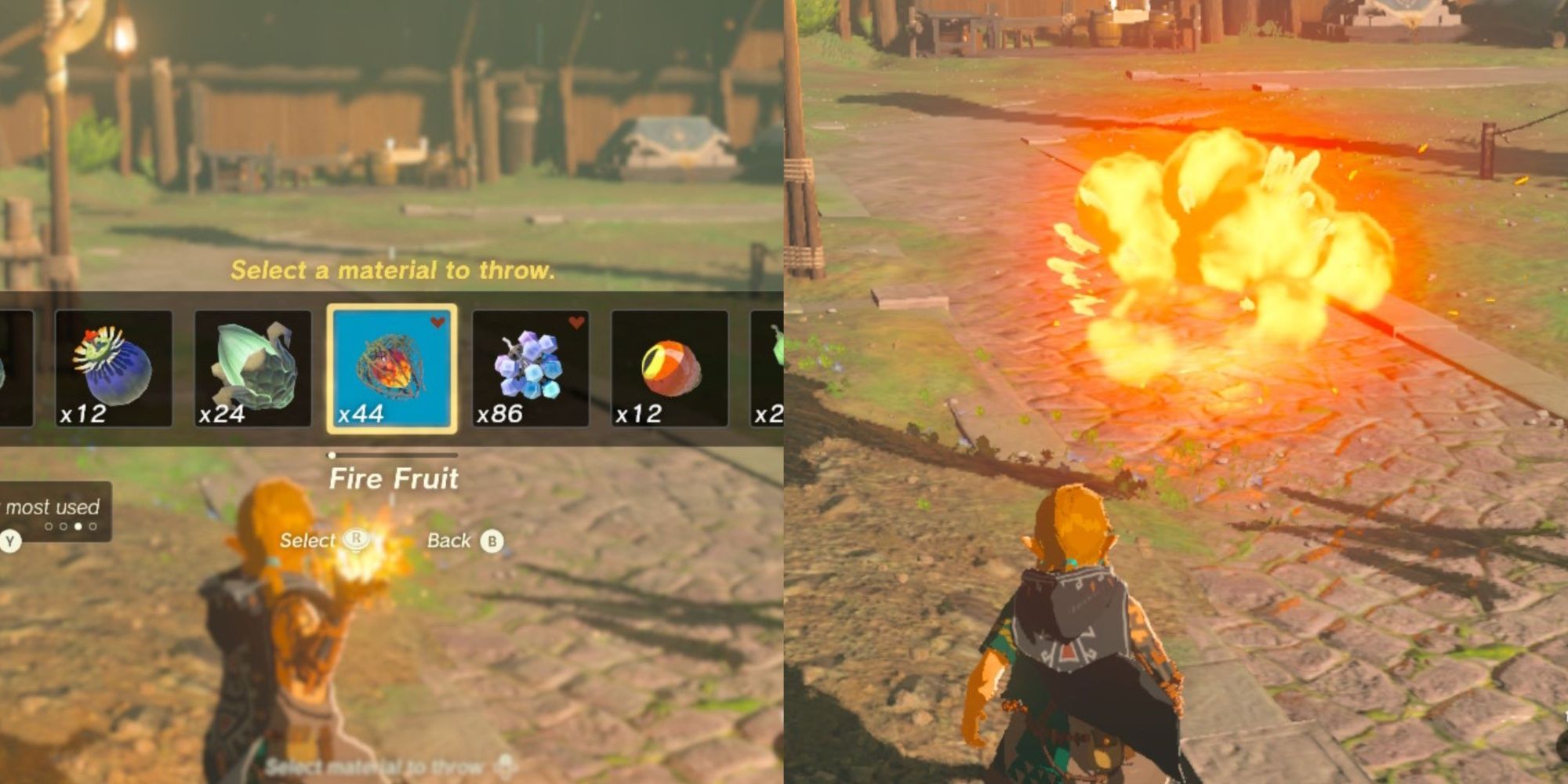 And we're back to fruit. Fire Fruit isn't actually as useful for combat purposes as other fruits are. When thrown, it can still be used to burn enemies slightly, but unless the enemy is a frost-based enemy or an ice wizrobe, it can be used better.
Fire Fruit can usually be thrown to start a fire. Throw it on grass to set it on fire, throw it on a tree to start a campfire, or throw it on a block of ice to melt it quickly. Functionally, it's a key item you'll want to keep stocking up on as a quick way to start a fire will always be a need for survival.
5
Puff Shroom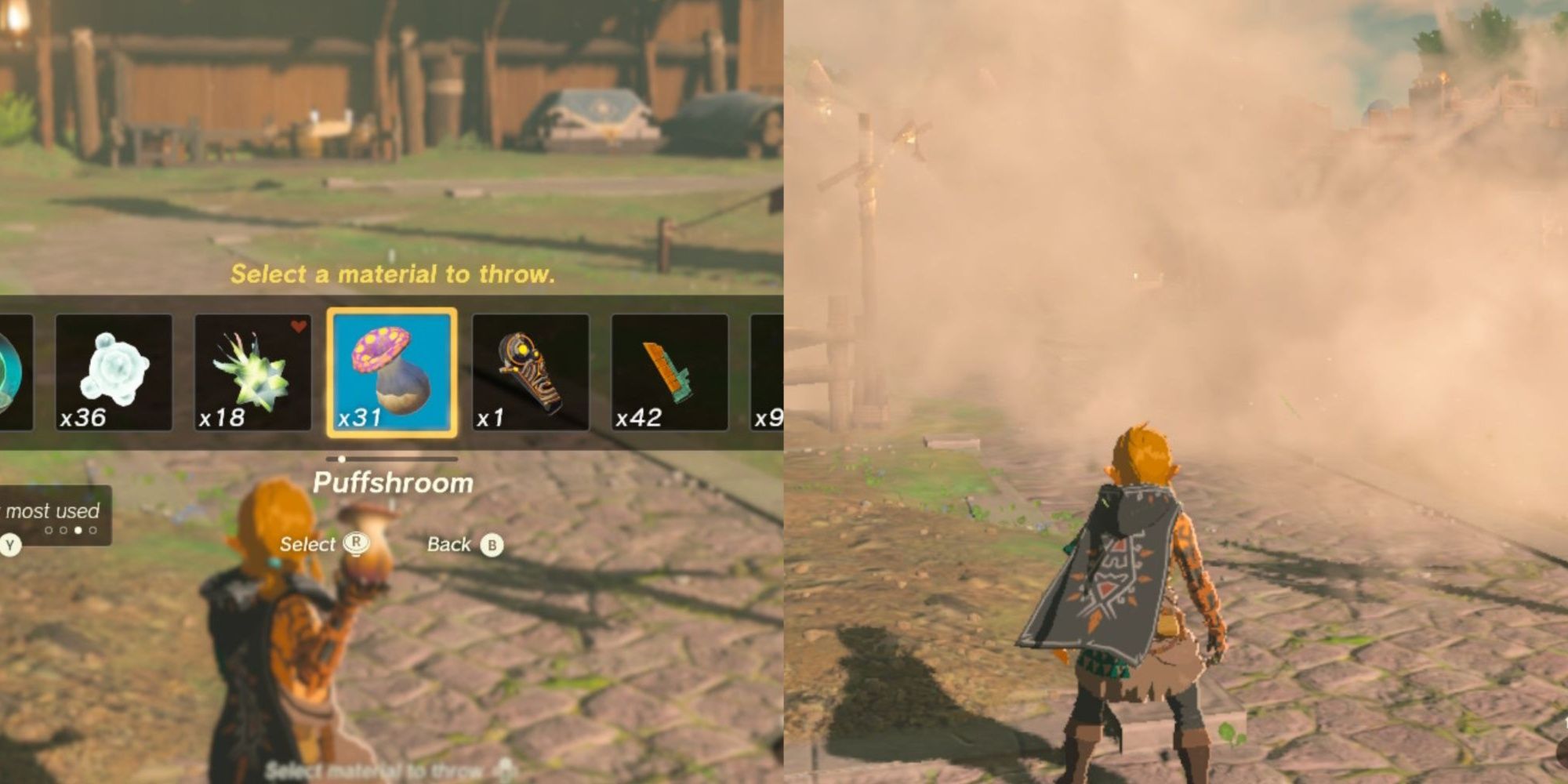 Prepare for covert ops in Hyrule, as Puffshrooms are basically smoke grenades. Throw it on the ground or around enemies and you'll see enemies engulfed in a huge cloud of smoke.
This can be great in many ways as it impairs the visibility of nearby enemies. Use them to get free hits or escape from battle. Similarly, it can be used to sneak into camps or ruins without the monster seeing you walking right through the front door.
4
Dazzlefruit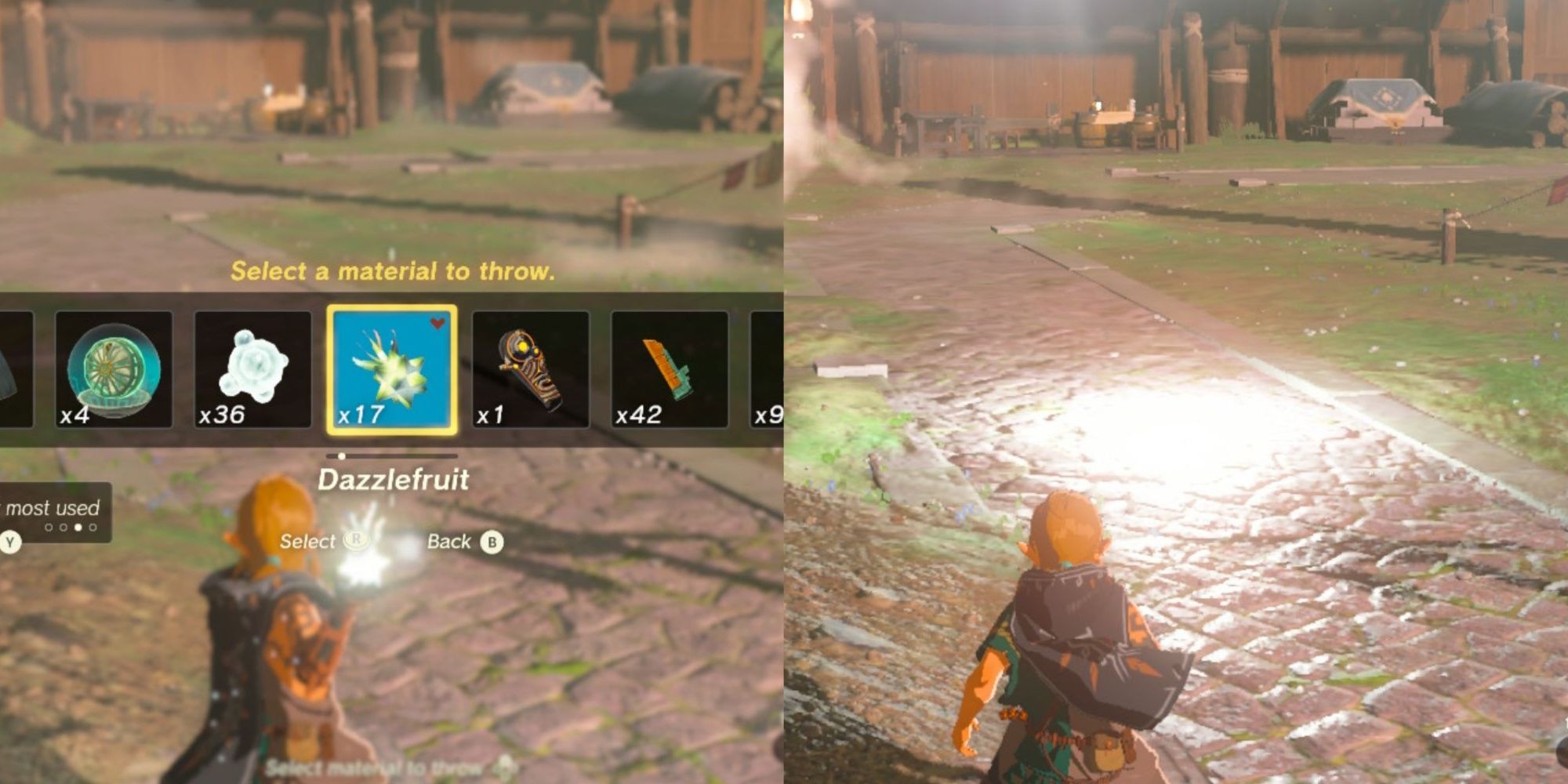 Boarded the fruit train. Because this is the last fruit on the list. The Dazzlefruit sounds pretty bland on paper (maybe even a tad tasty), but is essentially a flash grenade that terrorizes Hyrule. Don't bite into that.
Related: The Legend of Zelda: Tears of the Realm – Best Items to Fuse into Shields
Like Shock Fruit, it's an excellent item for stunning enemies, but it works a little better. Shock Fruit can stun some enemies in a small radius, but Dazzlefruit stuns and blinds enemies and has a much larger radius. Perfect for the camp of unsuspecting freaks.
three
hylian pine cone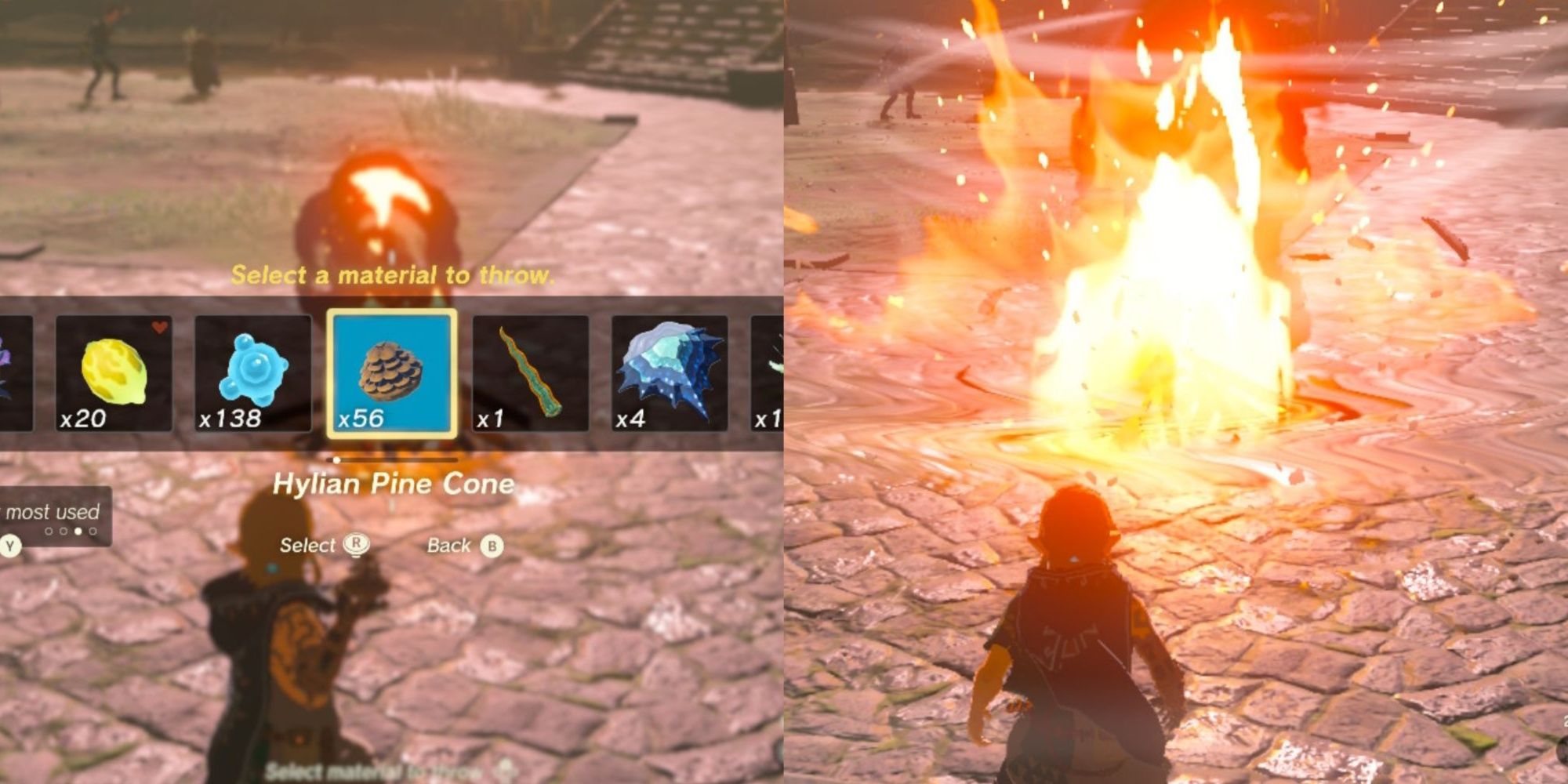 Going back to the feature item beyond what it does, the Hylian Pine Cone might just be something you pick up when exploring the forests of Hyrule and don't think about it anymore. But these little things can do big things.
Hylian pine cones explode with flammability when thrown into a fire, making the fire even bigger. That means you can spread a fire, increase its intensity, or easily create an updraft to float up and reach something. Don't throw any of these on a campfire as it will overcook your food.
2
Brightflower Seeds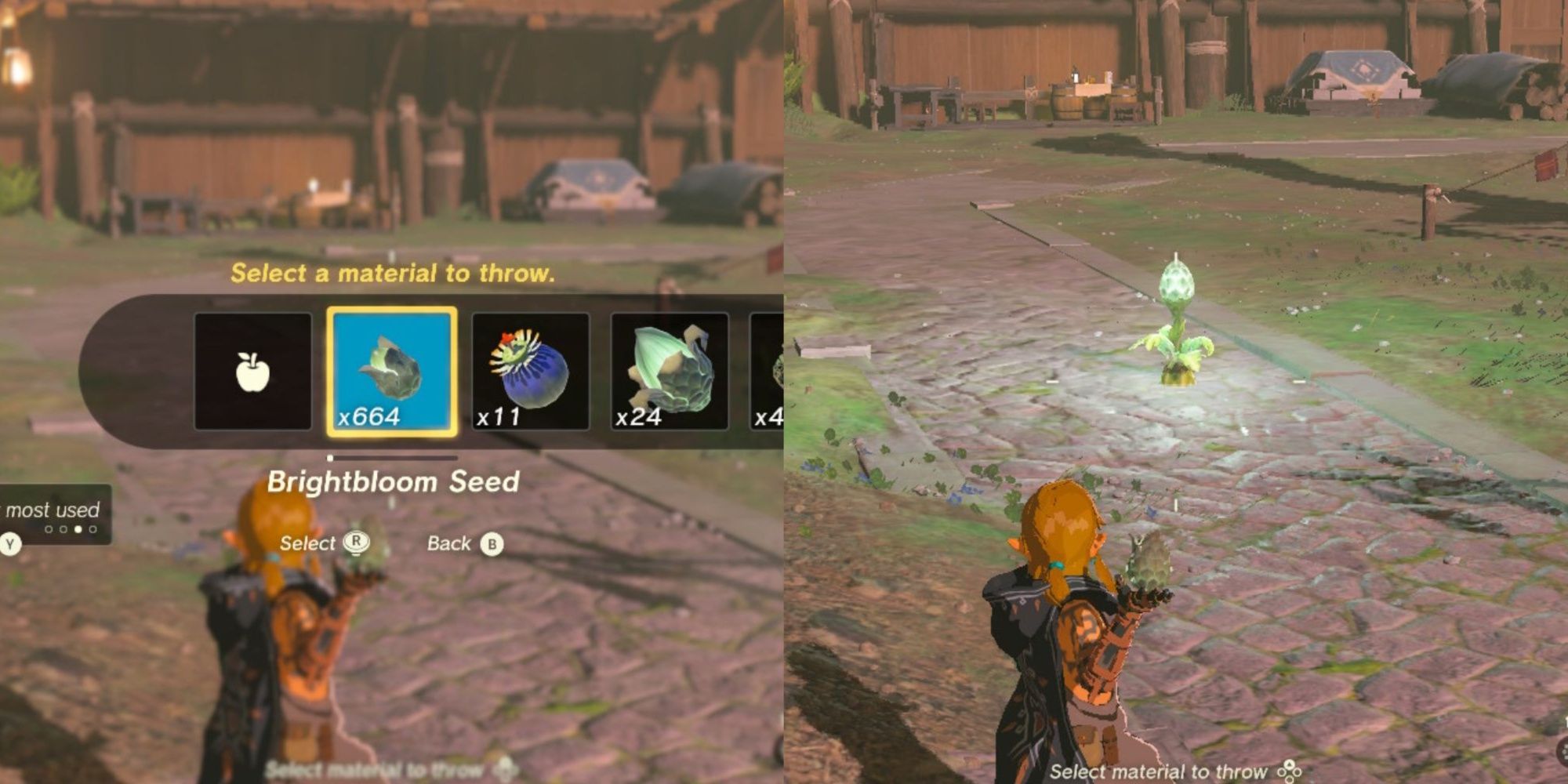 Now we're in the top two, and these items will continue to appear at the top of what we use regularly. Brightbloom Seed and its equivalent, Giant Brightbloom Seed, can be thrown to create a radius of light wherever they land. You can use arrows for this as well, but it is better to throw arrows to maintain durability.
They can be found all over caves, and you can quickly gather pouches full of these seeds. Their biggest use is when navigating Depths as the pitch-black darkness between Lightroots can be a bit difficult to navigate as it is. The Giant version produces a larger light radius, but the standard Brightbloom Seeds will get the job done in most cases, invaluable to avid explorers.
One
bomb flower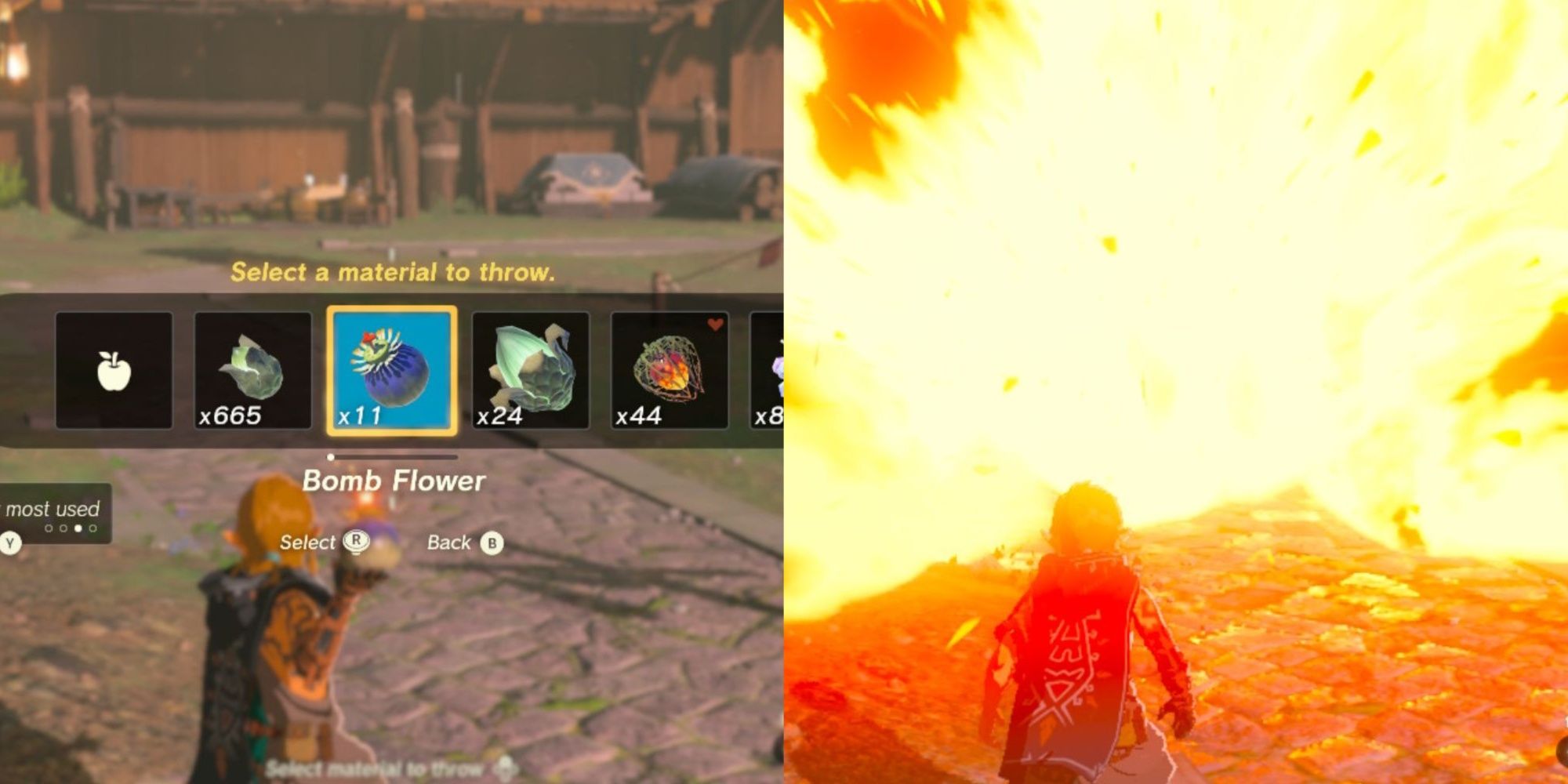 Finally, a fan-favorite comeback. The spring flower is a classic item in the Zelda series, and the return from Tears of the Realm is a fan-loved sight. Instead of infinite remote bombs, one at a time in Breath of the Wild, you can now stockpile as many bombs as you can pick up.
Found in caves and abysses, these tiny flowers can cause bursts of damage. Use it during combat or to break loose rocks blocking your path. Whatever it is, bomb flowers always have their uses, and there will never be enough of them.
Next: The Legend of Zelda: Tears of the Realm – Complete Guide and Walkthrough