It's not every day that Magic: The Gathering introduces new card types. In fact, the last time this happened was in 2007 when Lorwyn gave us our first set of Planeswalker cards, a move that would be seen as a paradigm shift for mechanical design and marketing of games going forward.
RELATED: Magic: The Gathering – Best Multiverse Legends, March Of The Machine Reprint
March of the Machine follows this by introducing combat cards, a type intended to showcase the epic conflicts that define so much of Magic's overall narrative. These are all currently in the siege subtype, so the full potential of this type is still unknown, but there are still plenty of bomber-class fights to check out in this debut batch.
10
Alara's Invasion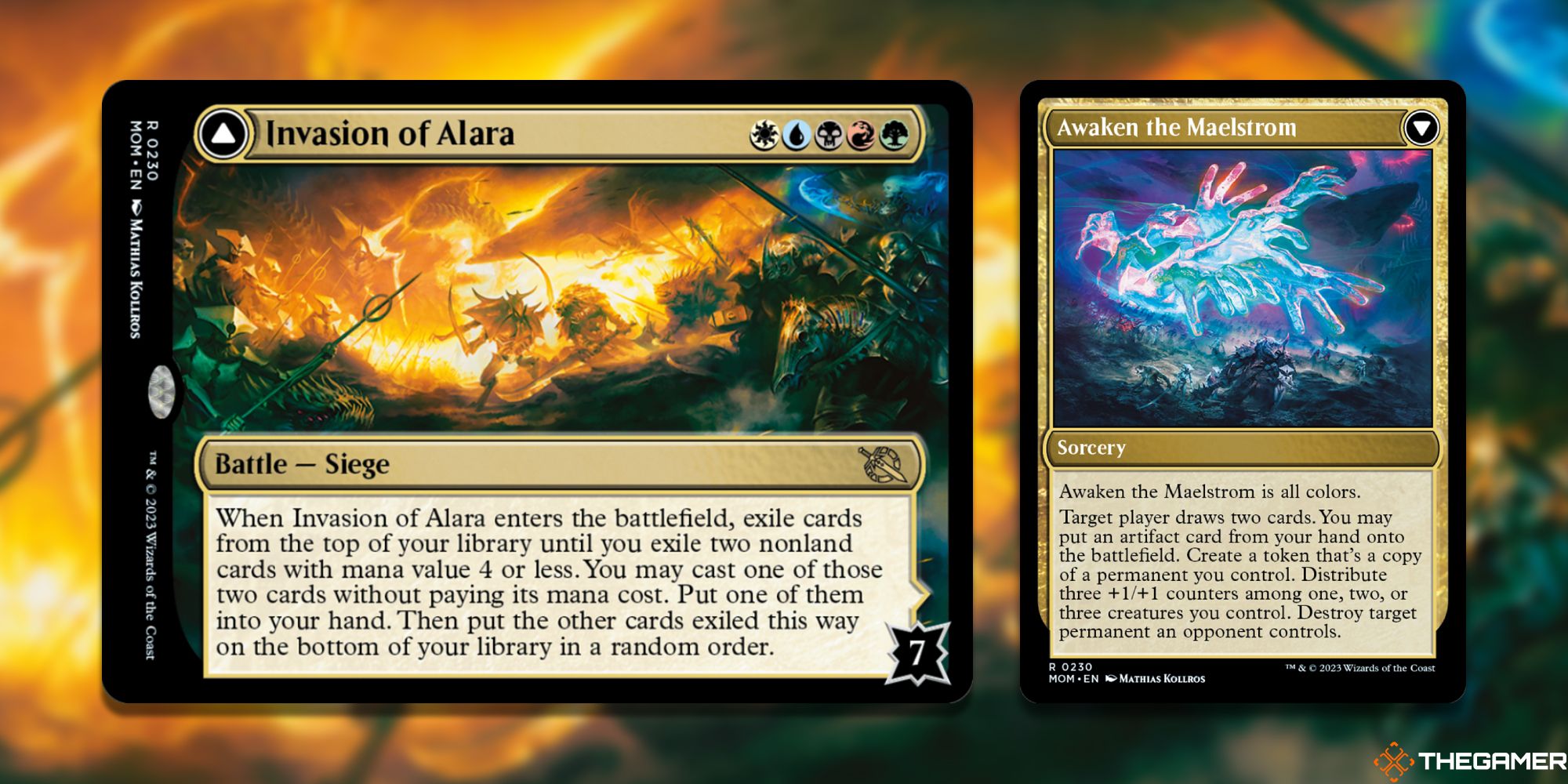 Invasion of Alara might be one of the best fights in the set, despite having a hefty 5-color mana cost. This depends on impact on both the front and back sides creating a whirlwind of true value enough to drown your opponent if you can reduce 7 defense counters in a reasonable amount of time.
All together, Invasion of Alara represents a +7 in terms of card advantage and offers a ton of draws along with eliminations, creature buffs, and permanent duplicates. The fact that all of these effects are delivered at once, unlike the staggered effects of most other fights, is a nice bonus that offsets the huge investment required to pull them off.
9
Azgol Invasion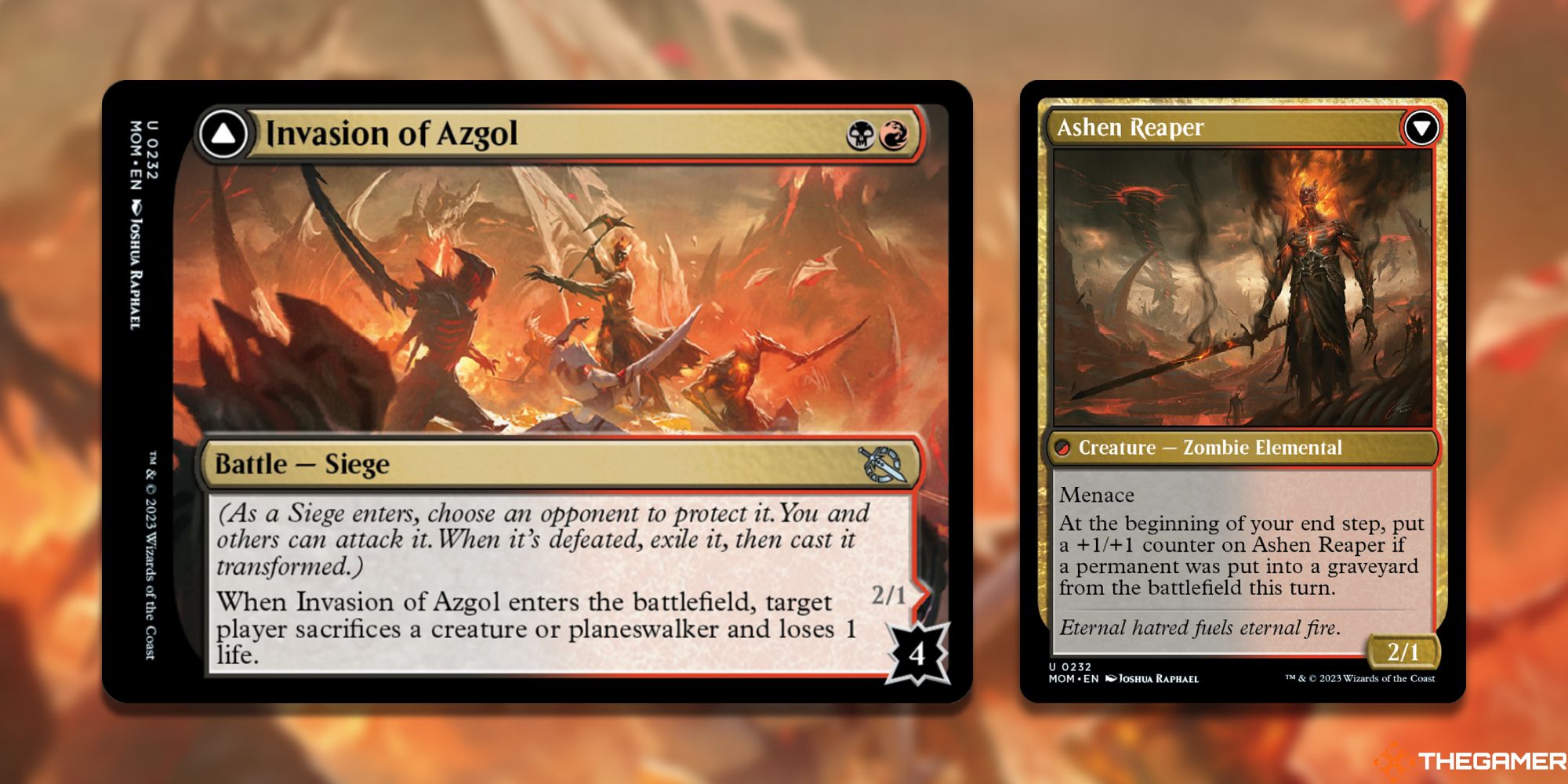 Including a combat card in an aggressive deck may seem counterintuitive since it essentially requires you to divert your opponent's attack from their life total, but in some cases the effect is strong enough to justify this setback. Azgol's invasion is one such case.
Not only is it a reasonably priced edict effect with a bit of collateral burn on the front half, but it turns into an easy-to-grow evasive beater whenever you boot up. I haven't fully visited Azgol as a plane yet, but if this card has anything to go by, it's best to be prepared for that.
8
Fiora's Invasion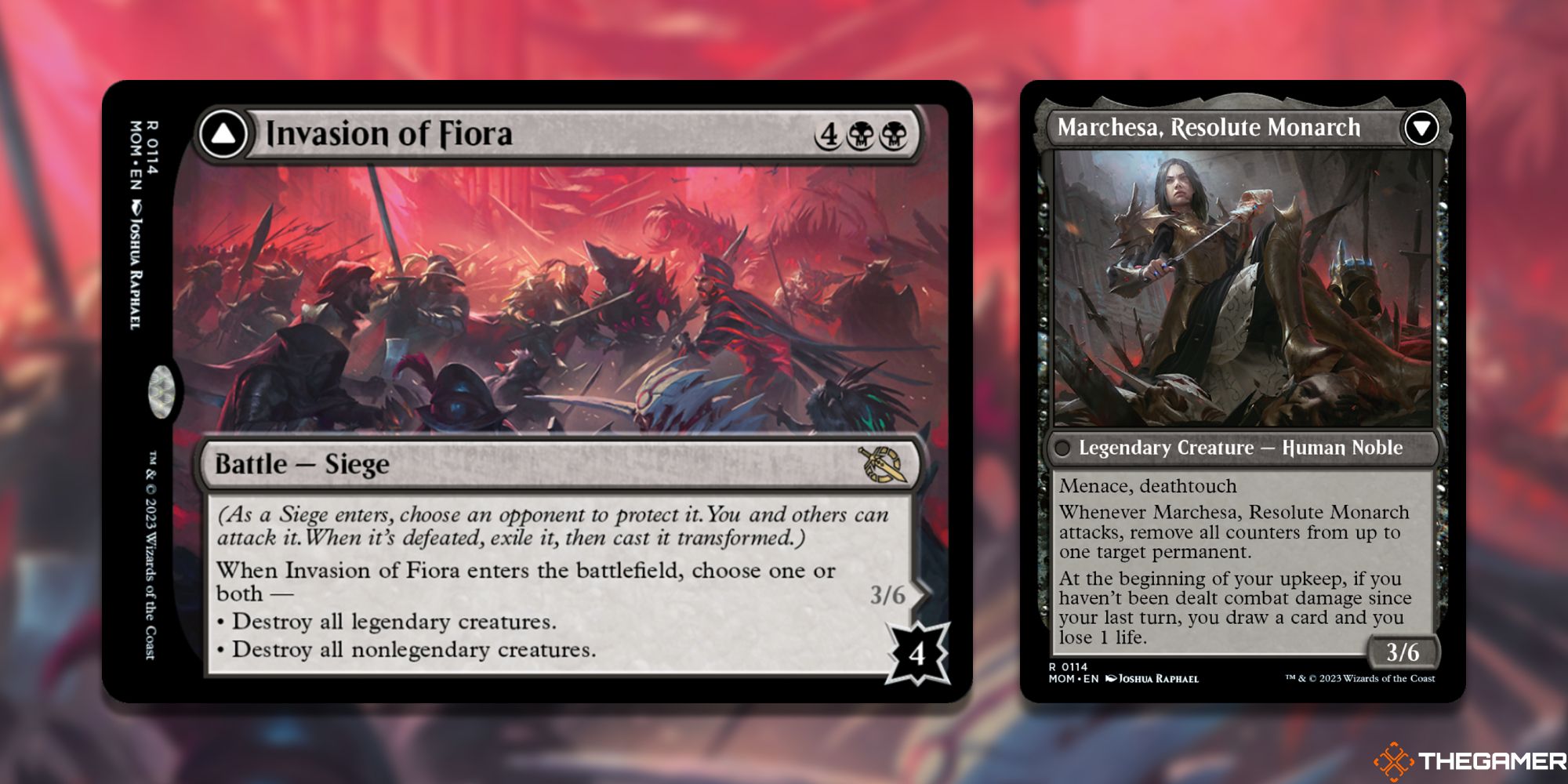 Bringing the world of intrigue into kick-and-scream mainstream magic, Invasion of Fiora is one of the most exciting battles from a balance point of view. Although it has a high initial mana cost, it only comes with 4 defense counters and can use a target board clear effect to deplete your troops in one turn.
RELATED: Magic: The Gathering – Machine's Best White Card for March
Once this is done, you will receive the latest incarnation of fan favorite Queen Marchesa. She is a bulky, evasive creature with the power to instantly kill any combat or planeswalker in play with each attack. This will help fuel future combat plays you make, and it also comes with Lord Light Card Advantage effects if you need extra value.
7
Invasion of Zendikar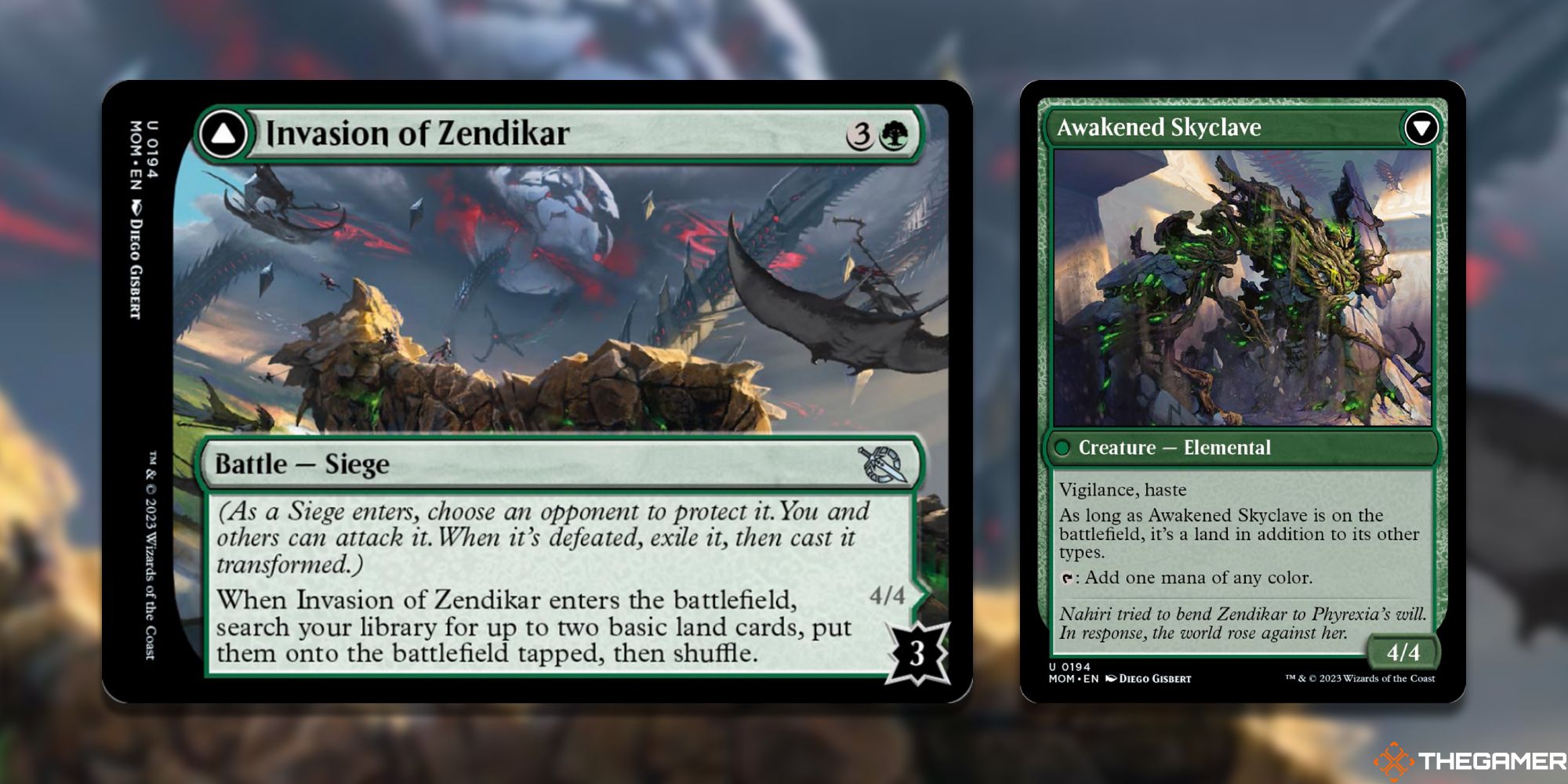 It's a good sign that the first half of the fight is a card you'll be playing alone anyway, and Invasion of Zendikar delivers just that. Explosive Vegetation is a card that has been used in Ramp decks across multiple formats, and it's a card with an added advantage. The advantages aren't hard to come by, given the combat's ludicrously low defense value.
Winning the Battle of Zendikar grants you a 4/4 creature and a mana source. Thanks to its innate ability to accelerate, it's ready to go. Overall, this doesn't fall behind on the board and goes from 4 to 7 mana on its own, easily allowing for a strong late game that your opponents will find unbearable.
6
Invasion of New Phyrexia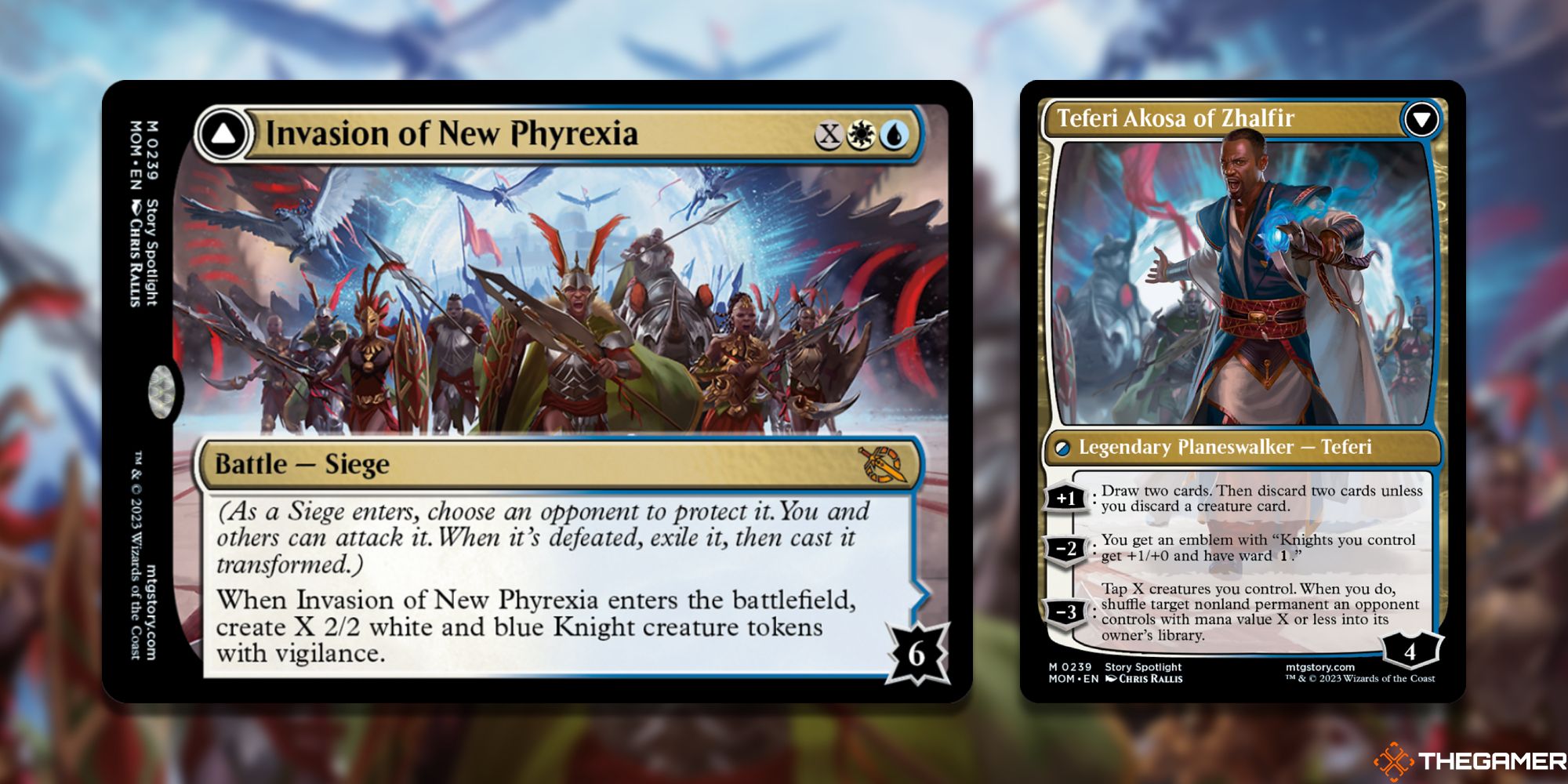 March of the Machine's central conflict needed a combat card worthy of grandeur, and Invasion of New Phyrexia doesn't disappoint. It comes down anytime from turn 2, depending on how many knight tokens you want to add to your army, and this card is flexible enough to fit into everything from Aggro to Control.
This flexibility continues on the back, which offers a powerful interpretation of the iconic Planeswalker, Teferi. While not as outrageous as his War of the Spark incarnation, this version can provide card advantages, removals, and board-wide knight buffs as needed. Both sides make strong plays at every point in the game, but see the cards play in a variety of formats.
5
Invasion of Tarkir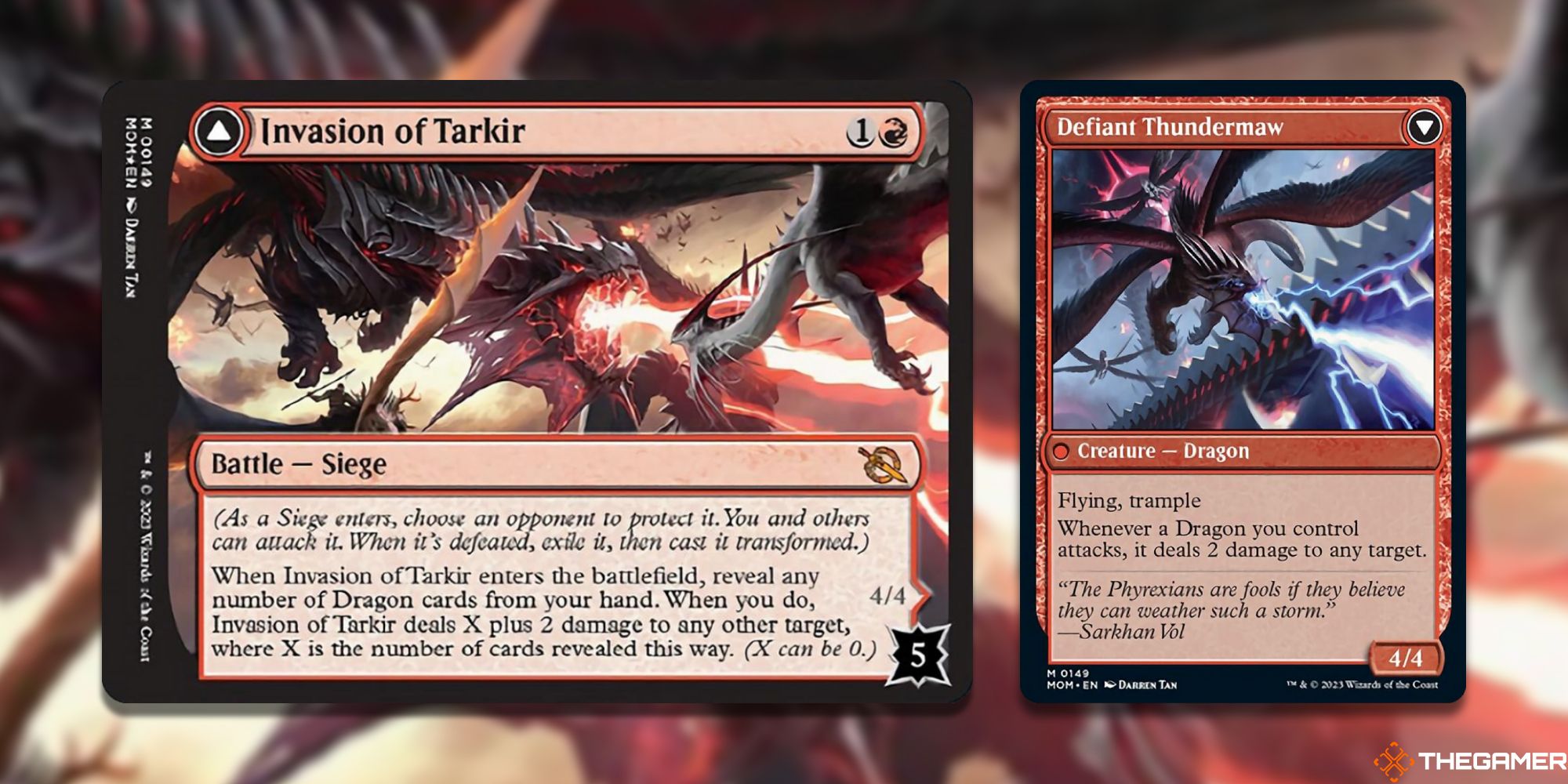 While dragon-based decks are mostly at home, Invasion of Tarkir is generally strong enough to see play in a variety of midrange strategies. Front is a reasonable burn spell at a base level, excels with just one dragon in hand, and scales beautifully from there. The fact that it can target damage in other fights is a nice bonus, and what makes this card excellent by multiples.
The back half is a very sturdy 4/4 flap that allows the dragon you control, including your own, to deliver an impact that seems out of fashion every time you attack. The 5 defense counters here can be hard to break through, but the strong initial effects and powerful rewards make up for it.
4
Invasion of Theros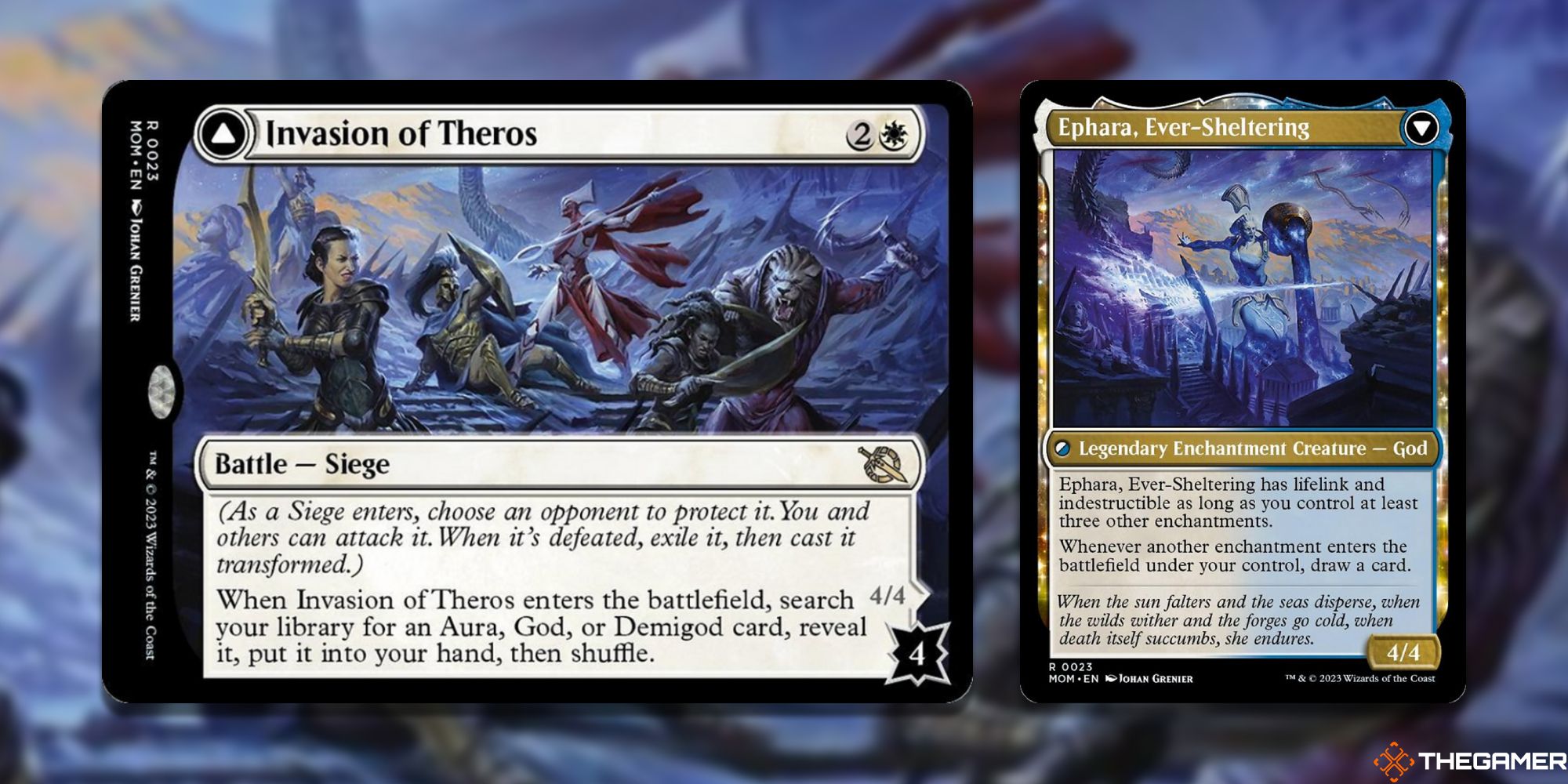 Invasion of Theros is definitely an interesting case for an Enchantress-style deck, but it's flexible enough to play in other strategies as well. The front half is a 3 mana tutor effect for Gods, Demigods, and Auras. Three very specific card types, but three work well with the back half of the card.
Related: Magic: The Gathering – The Best Creatures In March Of The Machine
The back half is an entirely new God card. It's a fresh take on Ephara that puts the original to shame. It lacks the innate protection of her past incarnations, but is balanced by the low mana cost of combat itself and the ability to draw superpowered cards that cycle through decks faster than they can be played. If not selected.
three
Invasion of Ikoria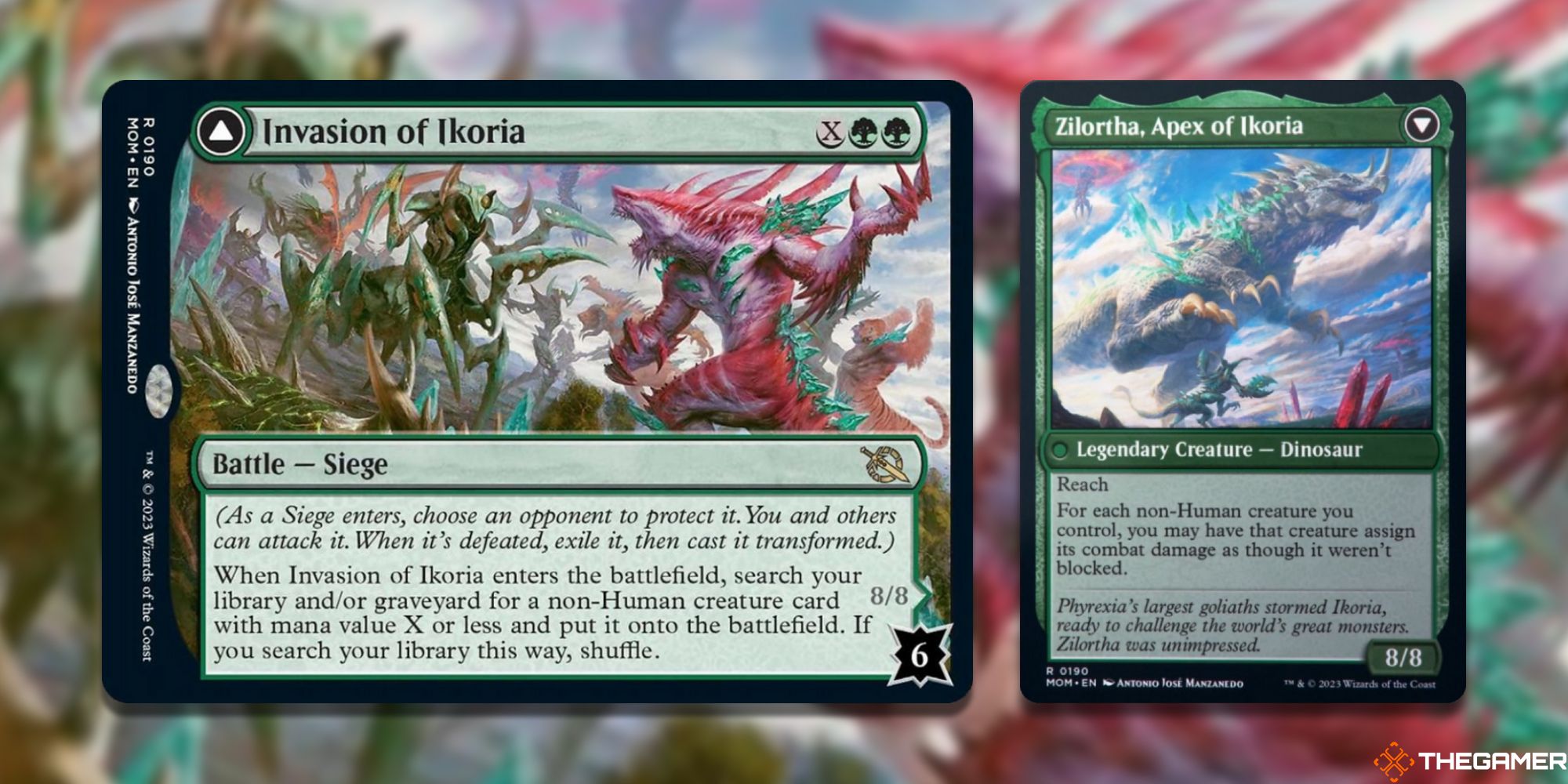 The difference one mana makes. Invasion of Ikoria costs one more mana than the infamous Green Sun's Zenith, but it's highly unlikely that the card will have the same fate – banned in Modern. This card actually outperforms Zenith in every way, is less restrictive, and can even catch creatures from graveyards, so purely because of the cost difference.
And that's before considering the massive 8/8 dinosaur hiding on the back of the card. Thanks to your cunning evasion abilities, you are waiting to end your opponent's life in one combat phase. A very powerful card that turns decks and graveyards into handy toolboxes without needing to flip them over.
2
Invasion of Kaldheim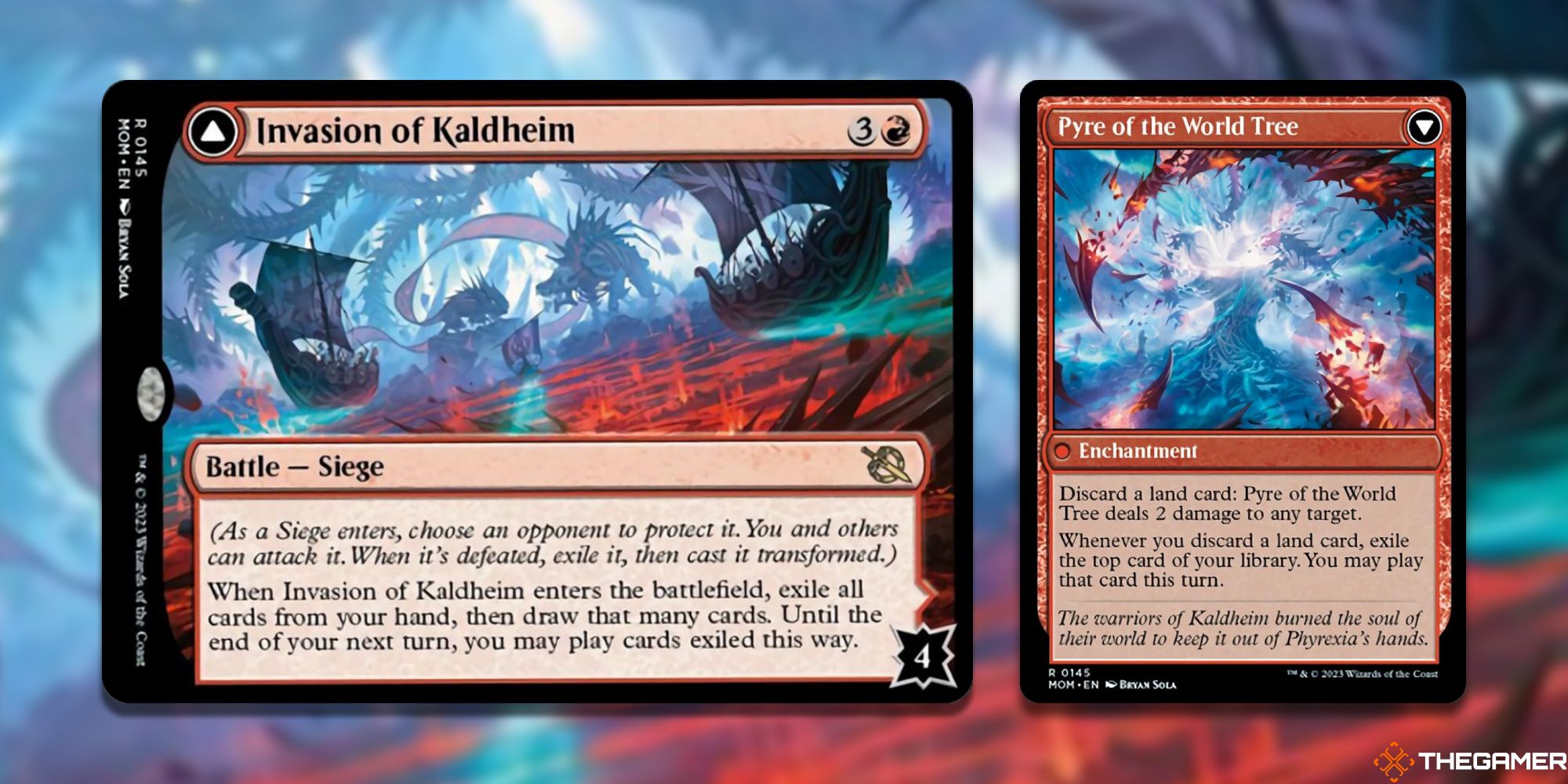 A fight for the second half, Invasion of Kaldheim unfortunately falls into the category of expensive cards that 'do nothing' when first activated. Wheel of Fortune-style opening effects give you some card advantage, but the real power comes with the pyre of the World Tree on the back.
This is a spell that turns your surplus lands into a 0-mana shock that also draws cards. This is an absolute dream for any Burn deck. It guarantees you never run out of gas again and allows you to bring home items from stagnant matchups.
One
Invasion of Innistrad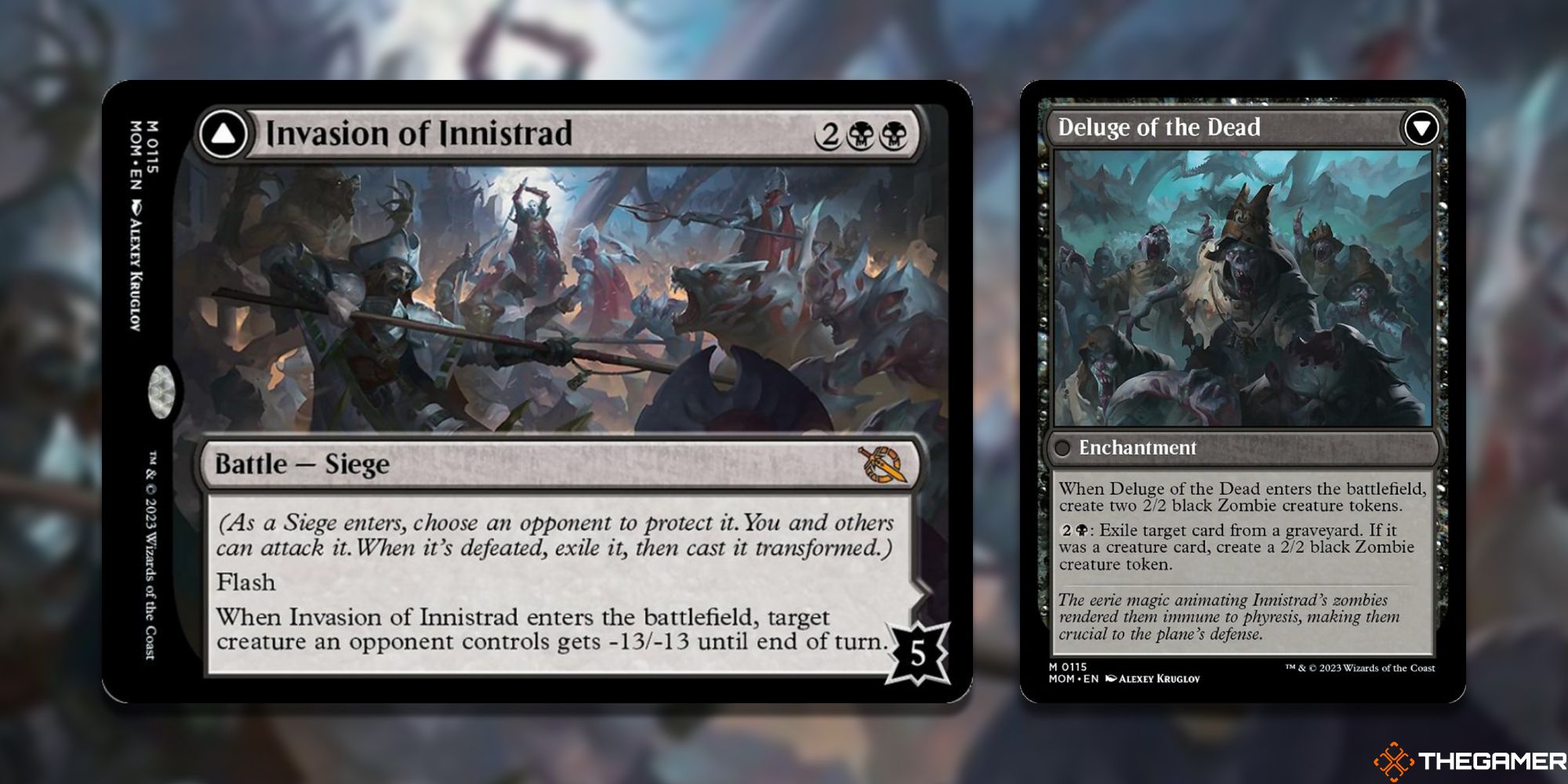 Being an instantaneous speed universal removal spell is a great start to any fight, and Invasion of Innistrad follows this with a great second half. After passing 5 defense counters, you immediately receive 2 zombie tokens and a repeatable Graveyard Hate effect that can continuously spawn more.
It's a card that definitely fits the midrange, but could also work in a control deck given how Deluge of the Dead can create an almost endless supply of menace. It's fitting that one of Magic's most influential planes gets one of the strongest battles in the set.
Next: Magic: The Gathering – March Of The Machine The ultimate legendary team-up