Party select text not used in the original release of Final Fantasy 7 features surprising nicknames for playable characters, including Tifa "Miss Busty" and Aerith "Aeris <3 <3".
Considering the sheer size of the original Final Fantasy 7 (so massive that it's now split into three parts as a trilogy of remakes), it shouldn't come as much of a surprise that there's quite a bit of cut content. But you'd be surprised how much dialogue and text was cut from the game, including cheeky nicknames for every party member. Cait Sith fans, you might want to roll your eyes.
RELATED: Final Fantasy 7 Rebirth Needs Its Own Terrible Snowboarding Minigame
As shared by Redditor Hadrian_x_Antinous on the Final Fantasy subreddit, the unused data is from the original game's international on-the-ground chatter, and contains far more jokes and weird text than the final release. The most notable example of this is the nickname given to Cloud and the rest of the gang. Unspent text refers to Cloud as "Mr Cloud" and Barret as "Master Barret", but things get weirder.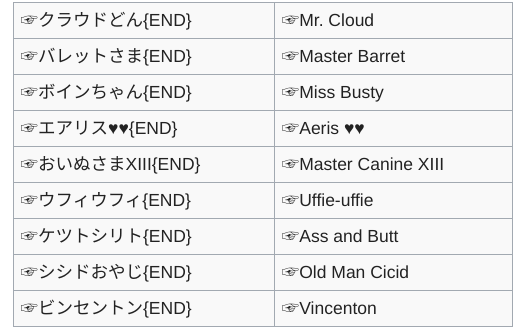 According to this unused dialogue, Tifa's nickname was "Miss Busty" or "Bazongas-chan" by the developers. Aerith gets her much more respectable nickname because her developers show how much they love her by referring to her as her "Aeris <3 <3". I guess they definitely like it, huh?
Speaking of favorites, Cait Sith doesn't appear to be one of them, as his nickname in the unused text is "ketto shii" which essentially translates to "Cait Shit". It's either a clever pun or an indication of how the developers feel about cats. Meanwhile, Red XIII's nickname is "Master Canine XIII". It's not really insulting or funny, but they keep debating whether he's a wolf or a cat.
Then there's Yuffie, called "Uffie-Uffie," and Cid, called "Old Man Cicid." Finally, everyone's favorite goth Vincent is called "Vincetron". Transformers crossovers I never knew I needed. Hadrian_x_Antinous speculates that this naming screen comes from Final Fantasy 7's infamously absurd debug menu, which apparently never showed up to anyone but the developers.
But these odd nicknames aren't the only nicknames given to the main cast. As shown by Hadrian_x_Antinous in a video detailing the English debug room, the developer made many other funny jokes. In this text, they call Cloud "Cloudster" and Tifa "Tifalonia" while naming Barret as "Barretalator" for whatever reason. Oh, and Aeirth is rightfully called "Princess Aeris."
Next: You don't have to recreate everything.