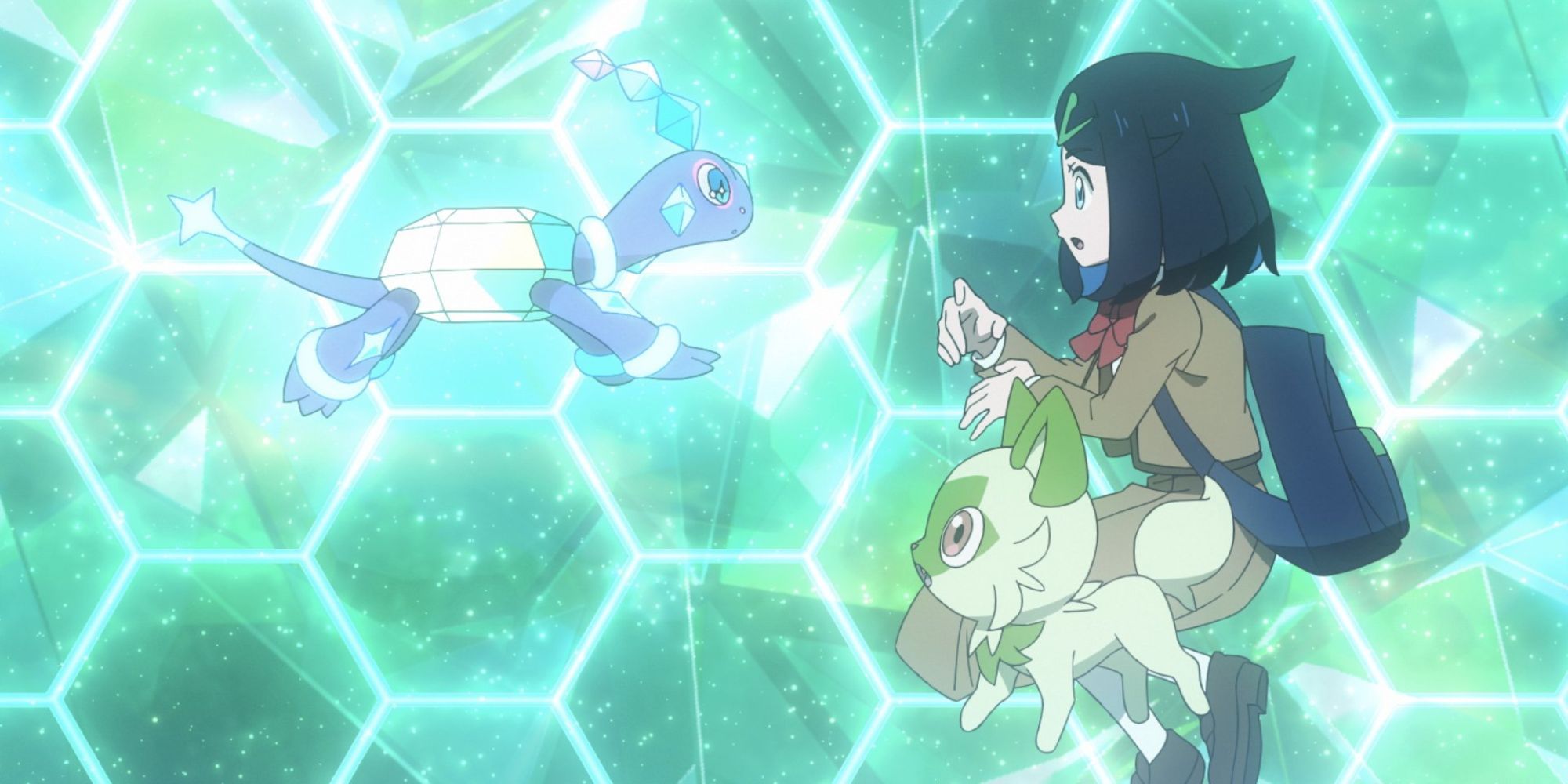 Pokemon Horizons, the latest animated series in the Pokemon franchise, premiered in Japan this week. It started off as an hour-long special, shifting the focus from Ash to newcomers Liko and Roy. But it's not just the new characters that fans are talking about. In the first episode, the anime teased a new Pokemon that many believe is a pre-evolution of the Legendary Pokemon Terapagos.
The folks at Serebii shared a screenshot of the Pokemon in question. I'm by no means a Pokemon expert, but the mysterious Pokemon seems to be related to the tortoise-like Terrapagos. First off, both seem to have dazzling shells. Along with similarly colored skin, the two Pokémon also share the feature of blue jewels on their faces and around them.
RELATED: Pokemon Horizons Opening Scene Leaked
There is also an upcoming Pokemon Scarlet & Violet DLC focusing on Terapagos and potential other forms. The sizable DLC is set to debut later this year and focuses on the hidden treasures of Area Zero. This means players will be interacting with new areas and new Pokémon. Well, we already know that one of those Pokemon will be the tortoise-like Terrapagos.
So it makes sense that the anime series would start introducing clues and details about this legendary Pokemon in the months leading up to the game's debut. What better way to get to know a new creature than by spending time with pre-evolution? Needless to say, having the form of Terrapagos in the animated series would be a great way to bridge the gap between the series' new protagonist and the games already established in the Pokemon universe.
So, anyone I bet on will tell you that this new Pokemon is some free form of Terrapagos. It's unclear if it's just a baby version, pre-evolution, or a completely different form. I think it's a coincidence too big for the franchise to throw us two different bejeweled turtles and no connection.
Unfortunately, Pokemon Horizons is currently only airing in Japan. The anime will be available to us via Netflix at a later date. Perhaps the western debut will coincide with the release of the Pokemon Scarlet & Violet DLC. Speaking of which, the new DLC is split into two parts. Part 1 is called The Teal Mask and will open up the Kitakami region to players this fall. Part 2 is set for a winter release and is called The Indigo Disk.
Next: Leave Squid Games Alone, You Don't Need an American Remake