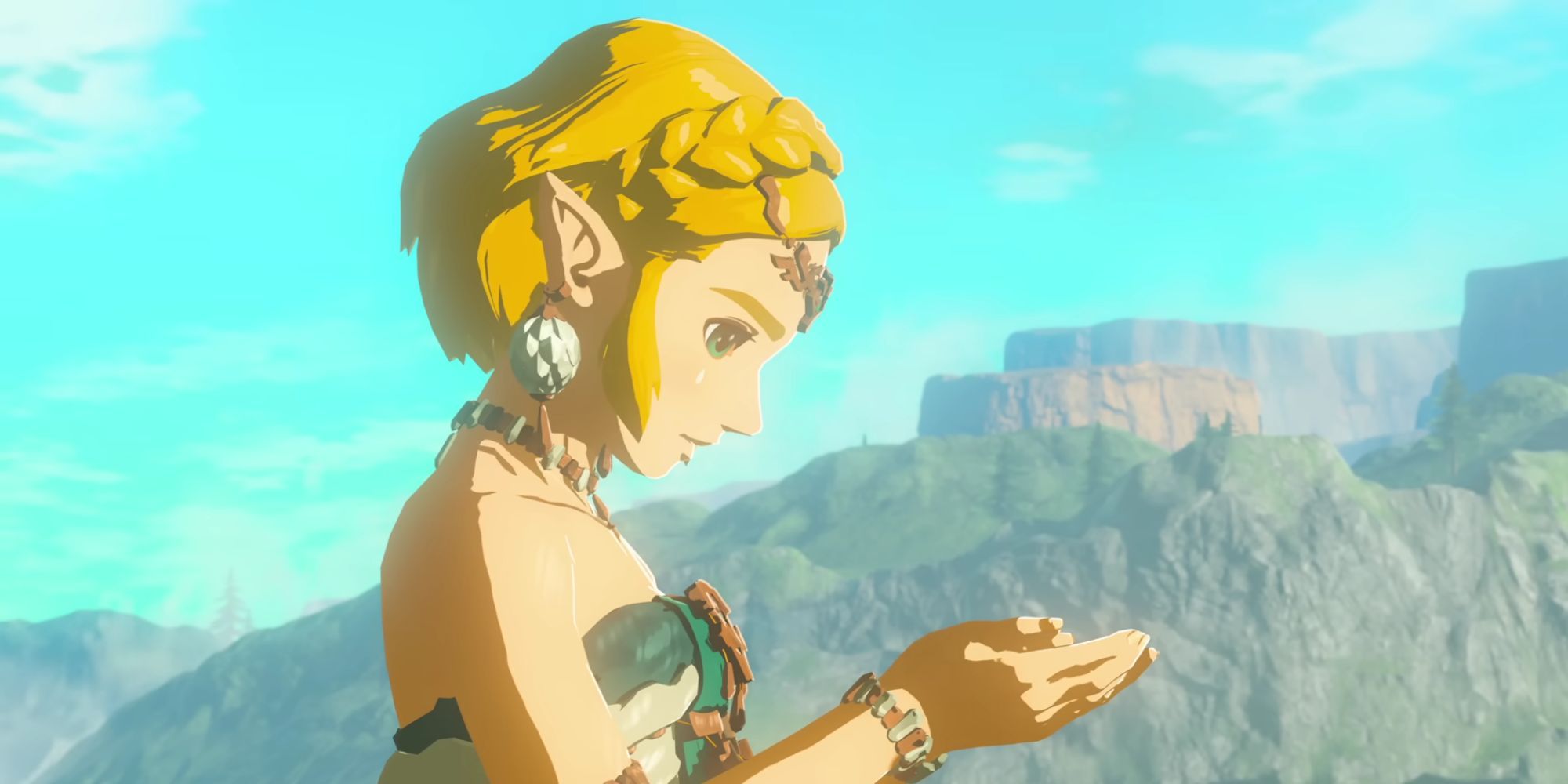 Fans of The Legend of Zelda think the latest Tears of the Kingdom trailer confirms a long-held theory that Zelda was somehow sent to the past.
Zelda fans are a pretty smart bunch. Just a few weeks ago, they made up the majority of the Tears of the Kingdom map in just 10 minutes of gameplay footage. Now, after sharing the game's third and final big trailer, Nintendo is putting some pretty compelling theories together. The overarching theory right now is that Princess Zelda is somehow stuck in the past.
RELATED: Nobody Makes Trailers Like The Legend of Zelda
The latest trailer has a lot to digest, but one thing is clear: Zelda and Link are separated at the very beginning of the game. We might guess she's somewhere in Hyrule, but it seems more likely that she's time travelled since we can see she's wearing a completely different outfit that looks more traditional. She is also seen holding the Master Sword, which appears to be new and undamaged, unlike her current one.
On the Zelda subreddit, fans are combing through trailers for more evidence that Zelda has time-traveled. First off, Redditor lamotrig points out that when Zelda breaks away from Link, she can actually be seen in a golden light, and she's clearly holding something in her first part. This could be the tear she's holding in her later cutscene.
Redditor pacgabriel has a pretty interesting theory related to Zelda's return to the past. They surmise that Zelda is sending her link messages through her damaged master sword, using her undamaged master sword she's holding at various points in her trailer. We actually saw a golden light talking to Link in a short gameplay video from Tears of the Kingdom last year, but now it makes sense that it could be Zelda.
Some Zelda fans have pointed out that the Tear Zelda is holding actually has a symbol for Link's new ability, Recall. This could mean that Link tried to remember her when her Zelda fell, and then accidentally sent her back in time when her Zonai were around her.
But if it's an accident. Another theory suggests that Zelda may have been intentionally brought into the past by Jonai. Jonai attempts to manipulate her into sending her Link around Hyrule to collect her tears and defeat her Ganondorf. We don't yet know enough about the Zonai to be sure, but that's one explanation. why Zelda is where she is.
Next: If 4K Max isn't great, I'll pay for it.