A long-awaited addition to Total War: Warhammer 3, the Chaos Dwarfs bring an all-new playstyle and some formidable units to the battlefield. Situated primarily in the Darklands, the Dawi-Zharr's engines of war might take some getting used to, but they are extremely powerful once you get the infernal ball rolling.
RELATED: Total War: Warhammer 3 – Warriors of Chaos Faction Guide
This guide will teach you all the fundamentals of playing the Chaos Dwarfs faction in Warhammer 3. If you're starting out and want to see them, this guide includes beginner's tips, preferred playstyle, best units, unique mechanics, legendary lords, and more.
Chaos Dwarfs Playstyle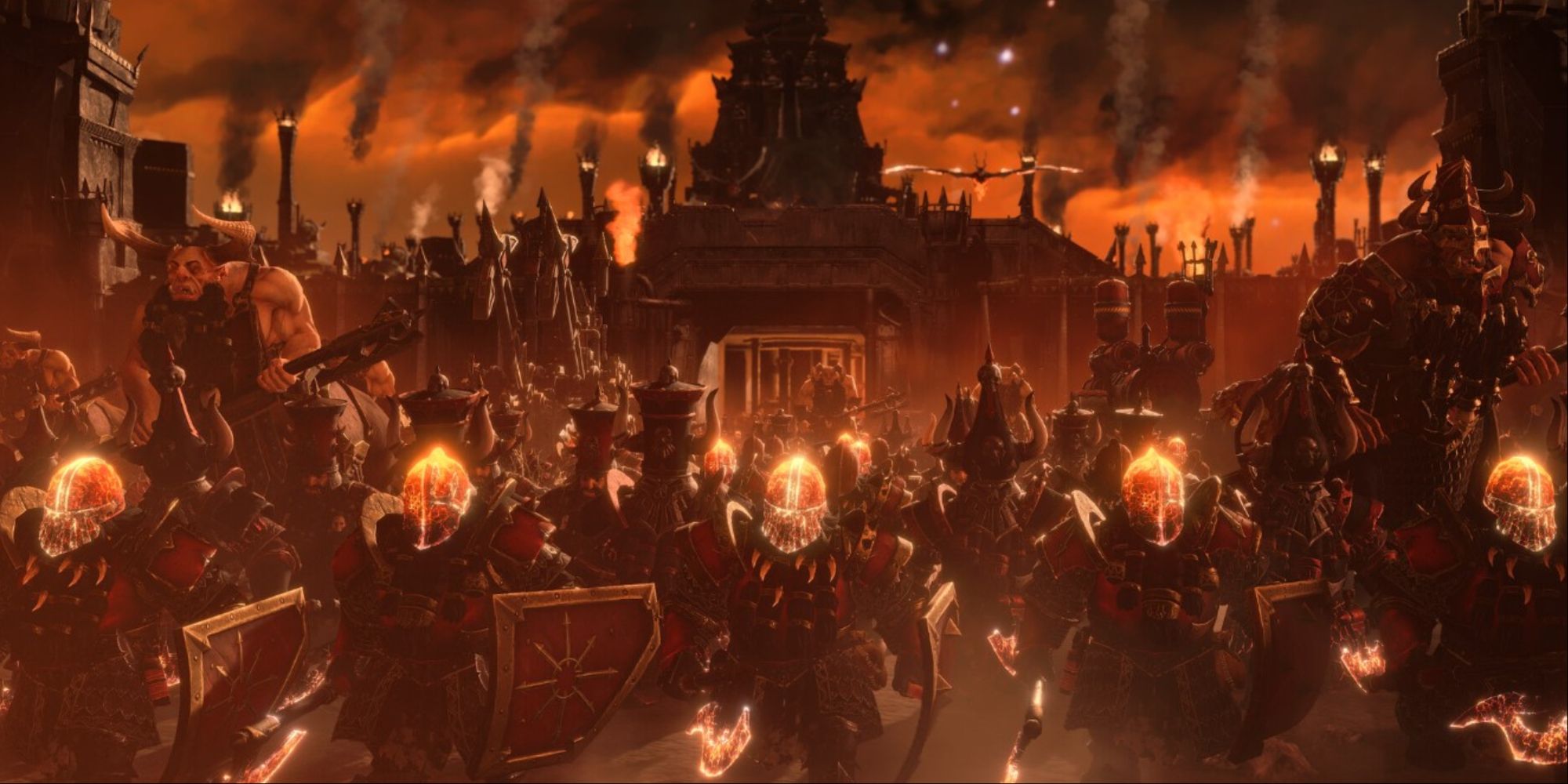 In the lore, the corrupted cousins of the Dawi revolved around a slave economy, utilising labourers to mine materials for their massive factories, from which they created demonic engines of war and destruction.
This theme permeates all facets of the Chaos Dwarf playstyle, as they can field not only high-tech artillery and mechanical creations but also cheap chaff, to soak up the enemy fire and protect their limited but more powerful units.
Iterating on the Beastmen's unit capacity system, you are initially very limited on how many good units you can recruit. To upgrade your capacities you will need to spend Armaments, and it can take quite a few turns before you can build up a good supply.
To offset these limitations, you can field any number of Hobgoblin and Labourer units, which will make up the bulk of your early-game armies.
Like other cheap units, they won't be particularly powerful, but you can find some nice bargains, and it should be easy to field a full-sized stack early on in your campaign.
Once your engine of war has been built up, you can start to ramp up your strong unit numbers. Tanky infantry, devastating missiles, powerful cavalry, and elite artillery all combine to make a max-rank Chaos Dwarf army a terrifying sight.
Access to some excellent lores of magic, including the new Lore of Hashut, will back up your armies with a good variety of spells, and it can be argued that the Chaos Dwarfs have one of the most well-rounded rosters in the entire game.
Key Units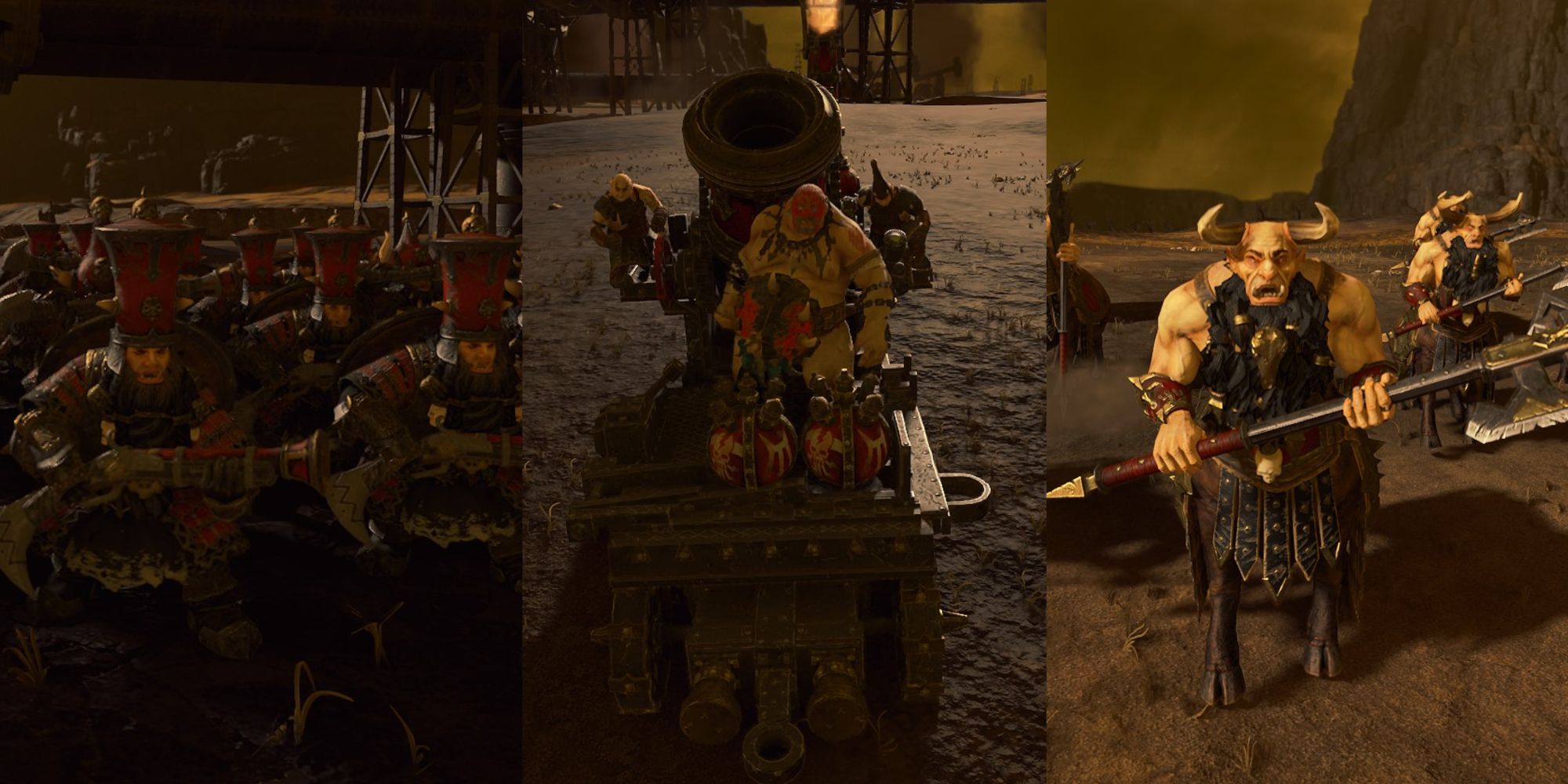 Unit

Description

Tips

Chaos Dwarf Blunderbusses

Heavily armored, high-damage missile infantry.

Although they have a short firing range, Blunderbusses will tear through pretty much any opponent.
Poor accuracy can lead to friendly fire, so be careful not to destroy your troops.
Consider investing in early capacity for these units, as you only need three or four to present a serious ranged threat.

Dreadquake Mortar

Massive damage artillery unit, with good bulk and an aftershock effect.

Although costly, the Dreadquake Mortar will decimate stacked units, leaving behind an earthquake to deal additional ticking damage.
The unit can be combined with a Skullcracker or Iron Daemon, enhancing its melee capabilities and Speed.

Bull Centaurs (Great Weapons)

Bulky monstrous cavalry, with huge weapon strength and Anti-Large damage.

These guys take the title as the best Anti-Large cavalry in the game. Armour-piercing attacks will melt through opponents, and their bulk ensures they can out-trade other units of their type.
In the early game, Hobgoblin units can form the backbone of your armies and are especially powerful when boosted by your legendary hero; Gorduz Backstabber.
Unique Mechanics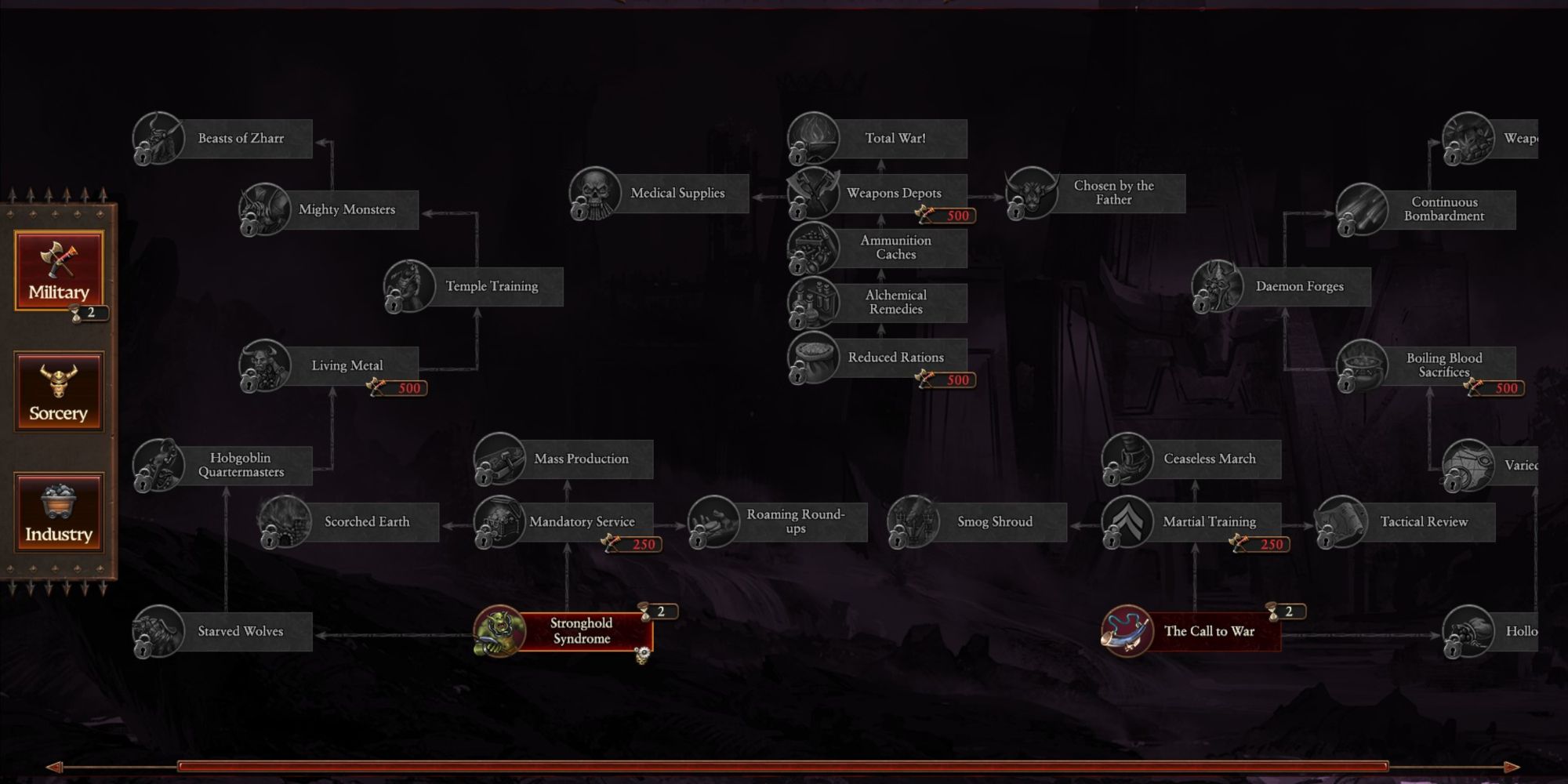 Labourers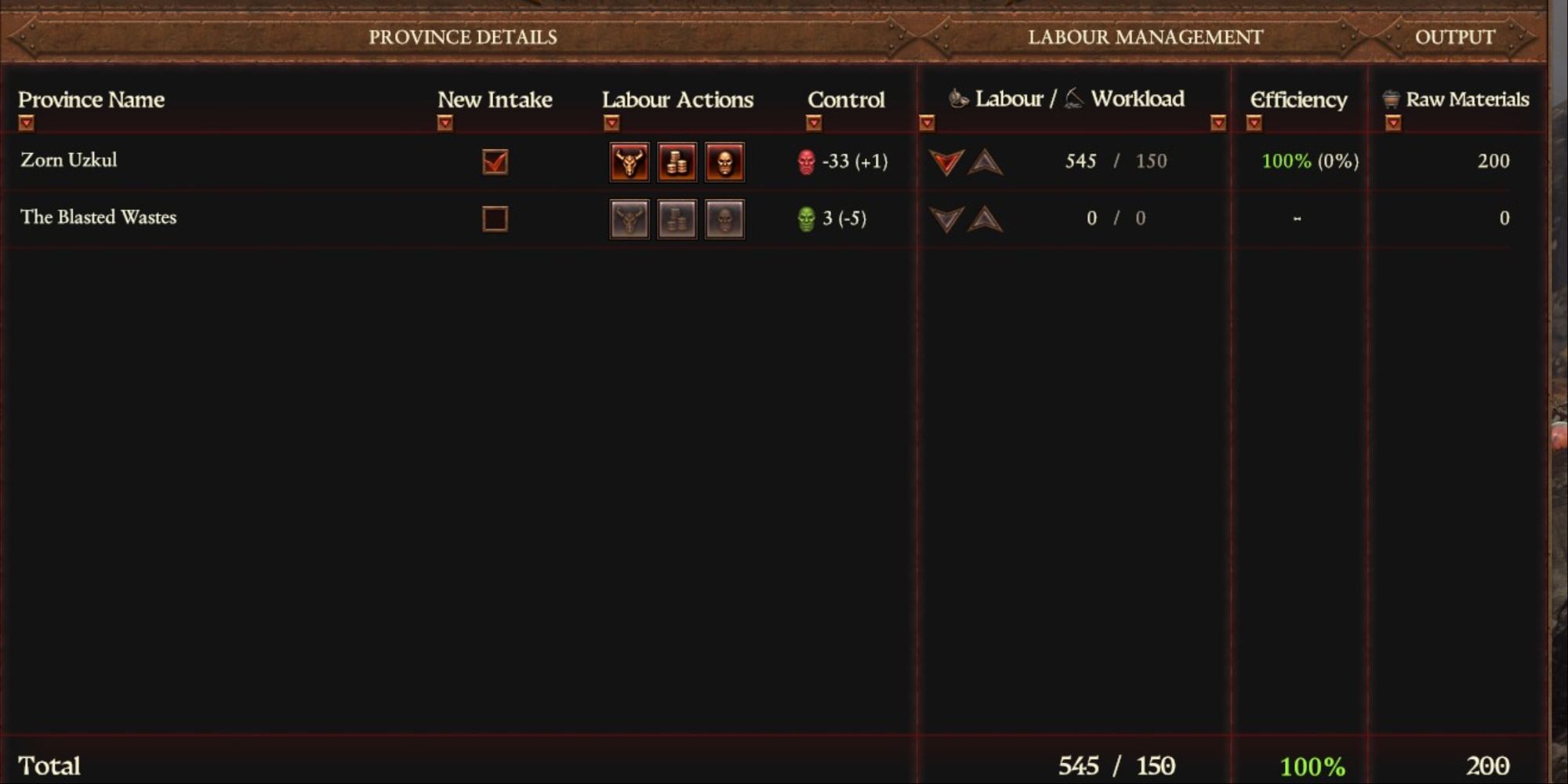 The key resource to managing your interconnected infrastructure is Labourers. These can be captured post-battle, as a reward from military convoys, and when occupying settlements.
You must try to maximise your Labourers, especially in the early game, as they are required to power your Raw Material buildings.
This is the first interaction that you need to focus on when creating your Chaos Dwarf infrastructure, so try and build up a nice supply early on, as slower periods in the game will see you continually lose labour amounts.
Labourers slowly decay over time (sped up by low Control), so it is important to try and constantly bring in fresh supplies.
You can manage how your Labourers are exported via the Labour panel, whereby you can manage your provincial intakes and directly give and take Labourers between your provinces.
Keeping your Efficiency as high as possible will increase your Raw Material production, so try and keep a healthy balance across all of your provinces, as higher numbers will proportionally decrease your Control.
Labourers can be directly sacrificed in the Labour Panel to provide certain benefits. They can either:
Instantly complete building queues
Generate Conclave Influence
Generate Gold
Generate Control
Although you should try to keep all your provinces stocked with enough Labourers, you should prioritise ones with any bonuses to Raw Material output.
Outposts And Factories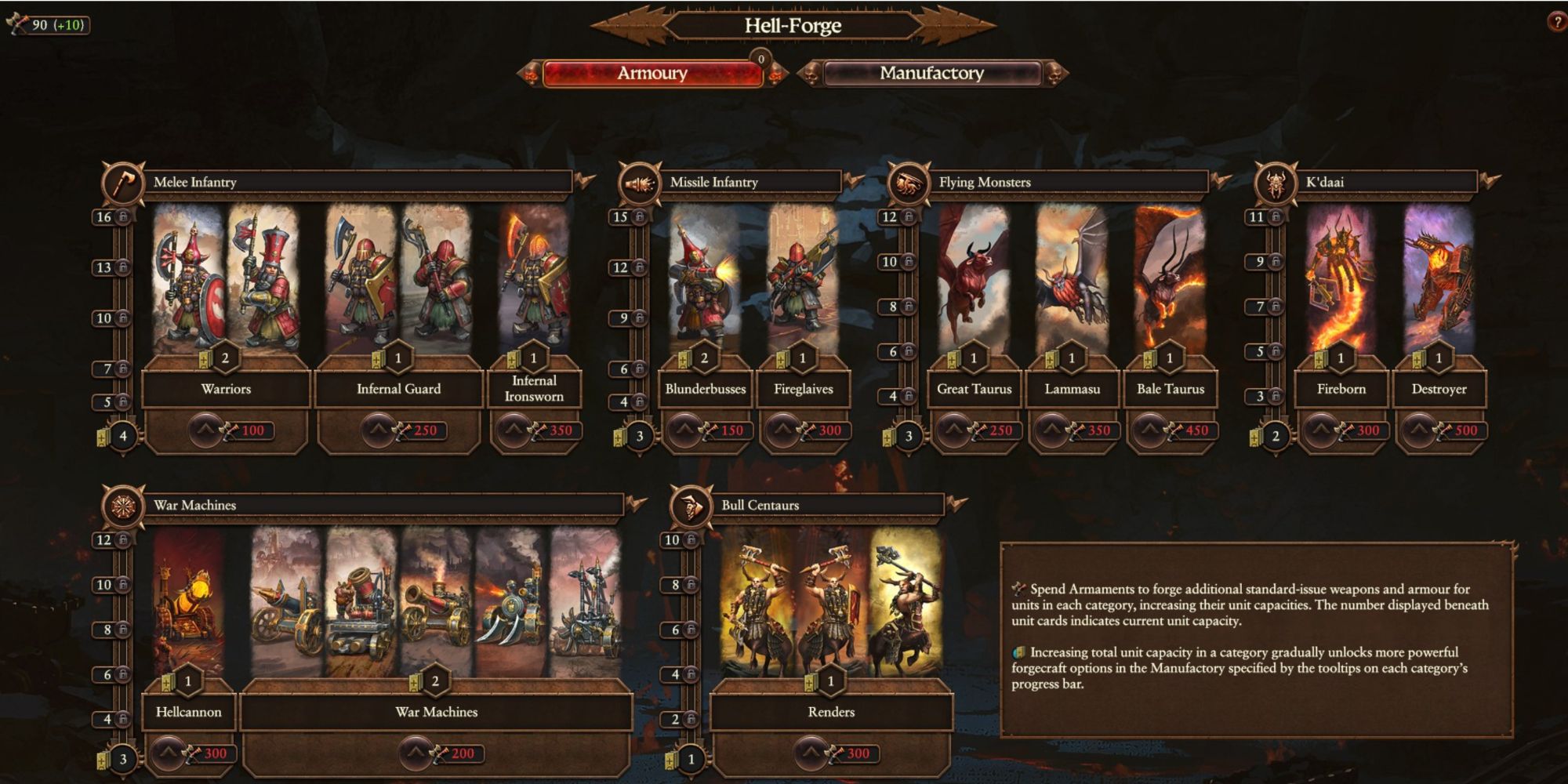 To spend your Labourers, you require either special unique buildings in your Tower settlements or to construct Outposts. These are settlements designed to generate Raw Materials, which can later be turned into Armaments.
Try to keep your Raw Materials ticking upwards, and in the early game, you can prioritise Raw Materials over Armaments, as you will want to be spending them on increasing your Tower levels.
Once you have a steady supply of Raw Materials, you can begin occupying or converting settlements into Factories. These will take a supply of Raw Materials each turn and convert them into both Armaments and Gold.
Factories are useless without enough Raw Material supply, so only build one when you are sure you can properly run it.
As the game goes on, and you get more and more resources, you can worry less about min-maxing your supply and demand, but in the early game, you need to focus on keeping a healthy production line.
An essential component in increasing your power, your Armaments can be spent on powerful technologies, increasing your unit capacities, building your best Tower buildings, and increasing the power of your armies via the Hell Forge.
Due to the Miners' Workshop building chain in Factories, try to have a Factory in each province you plan on owning functioning Outposts, as you can passively increase your Raw Material output.
The Hell Forge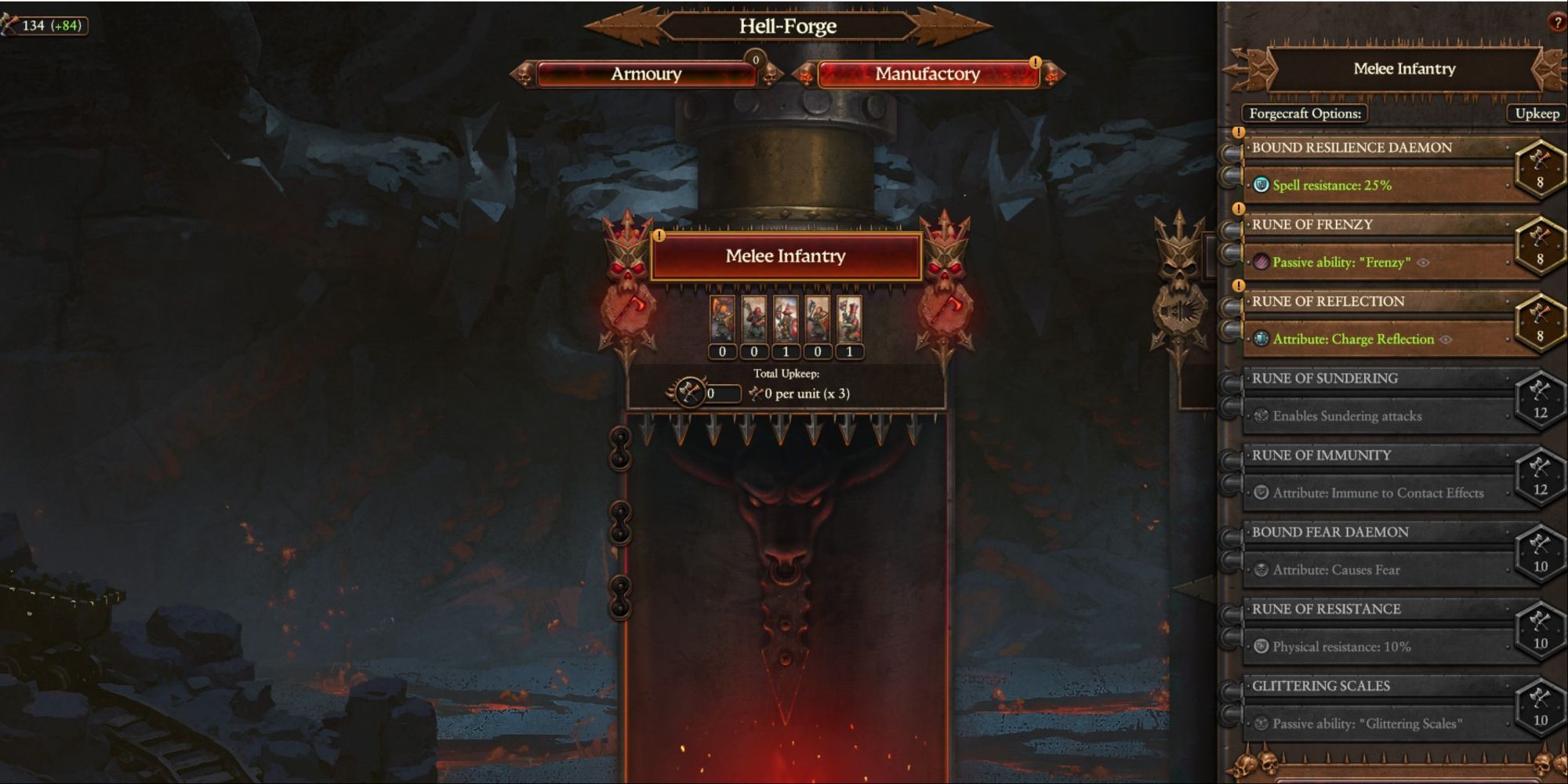 One of the main ways to spend your Armaments is the Hell Forge. Split between the Armoury and Manufactory, this system enables you to increase your supply of elite troops and upgrade them with various augments.
Your initial goal in the forge is to spend Armaments to increase the capacity of whichever units you can recruit. It is no use increasing the cap if you are unable to make use of it, so try to pre-plan which buildings you want to build in your Towers before committing Armaments into the Hell Forge.
Increasing certain unit capacities by specified amounts will unlock the Manufactory. While not super relevant early game, late game this becomes a major Armament drain, as you will be fielding lots of units and can augment them with multiple buffs.
Depending on how far you have increased a unit's capacity will dictate what augments are available to you. These will drain Armaments per turn, depending on how many units will be utilising the buffs.
Selecting an augment will buff all units of that type, so try to consider which ones you feel will complement your current forces.
Military Convoys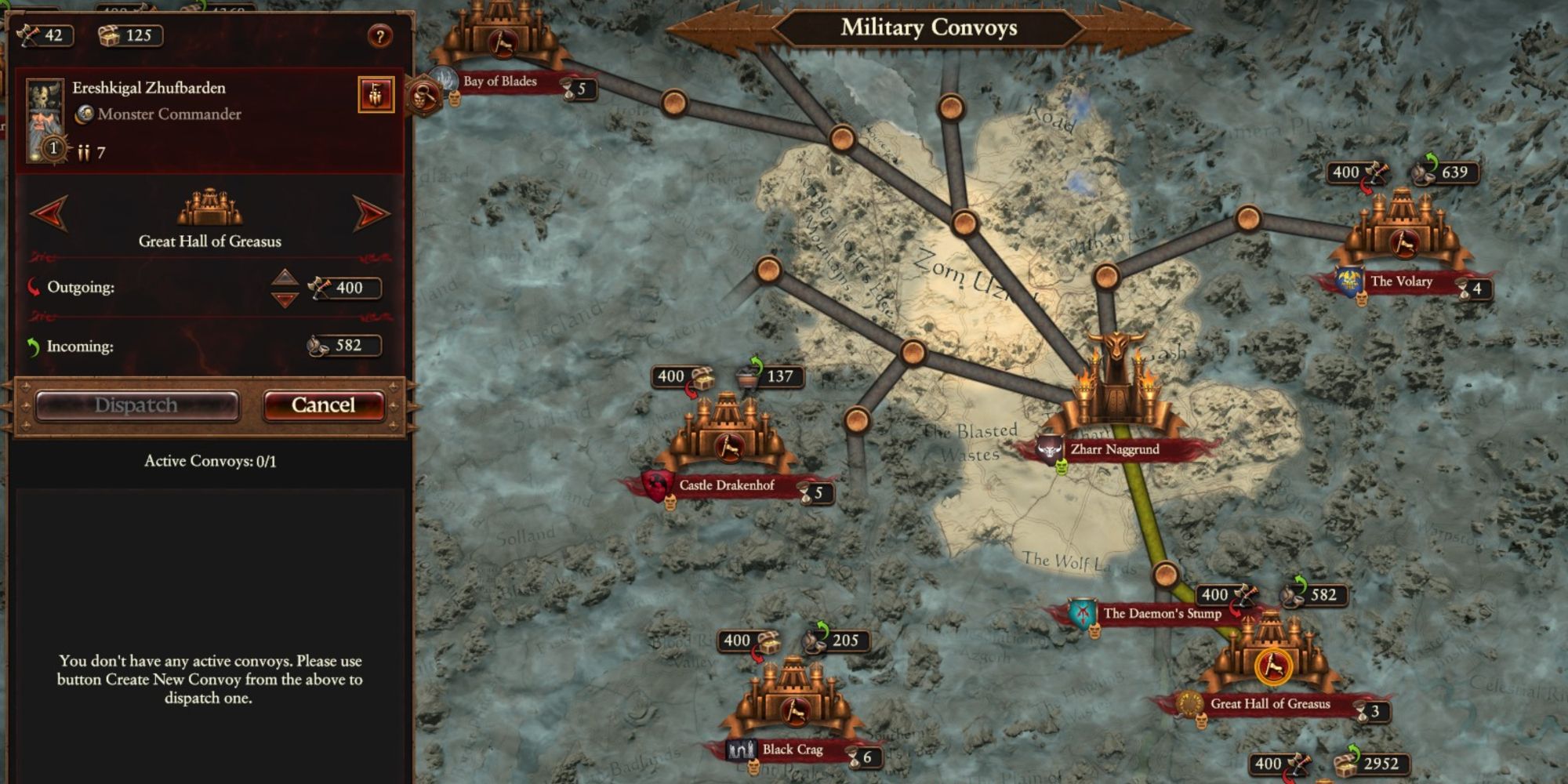 Able to be accessed on turn five, Military Convoys are very similar to Cathay's Caravan system. You will be able to recruit Convoy Masters, who will be sent off to the far-flung reaches of the world in search of trade.
You can manually decide which resources you want to target and which you are ok with spending. In the early game, spending some Gold to get Raw Materials or Labourers is probably the best offer, as you likely won't have the Armament supply to freely be able to trade them away.
Later on, Armaments make for some of the best deals and can result in huge amounts of Gold or Labourers.
Different Convoys will take different amounts of turns to complete, and you will encounter randomised events depending on their travel route. These can destroy your convoy if you are not careful, so try gaining some levels with quicker and easier journeys before tackling the more lucrative ones.
Different Convoy Masters come armed with different buffs, so try to experiment to find ones that either generate more loot or can more easily defend themselves from attack on the road.
The Tower Of Zharr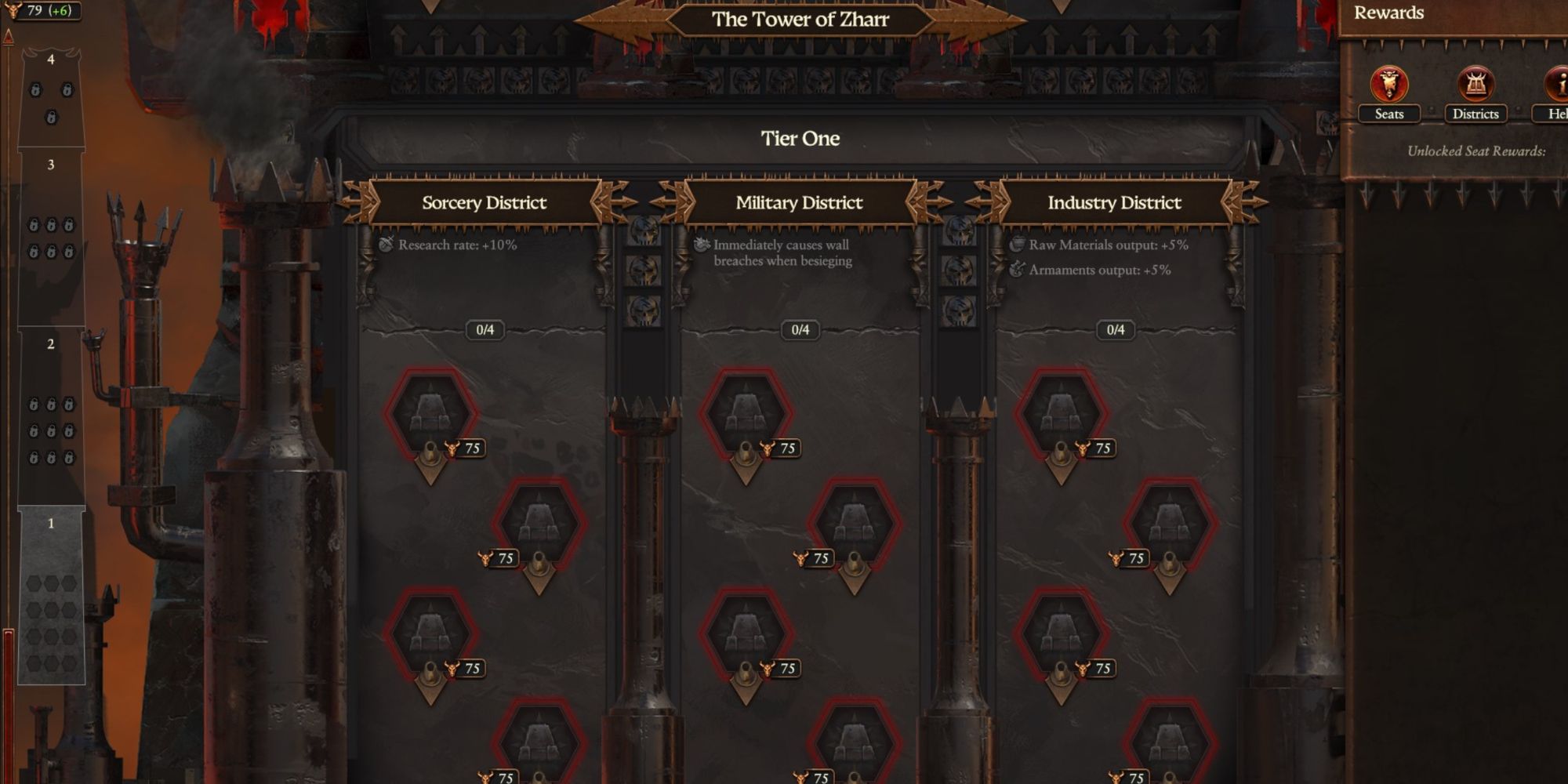 The final resource the Chaos Dwarfs have access to is Conclave Influence. This can be generated via unique buildings or simply by owning settlements and is a way to buy certain permanent faction effects.
You will compete with other Chaos Dwarf factions for these effects, so be sure to choose wisely, as they vary greatly in potency, and Conclave Influence can take a long time to build up.
The Tower of Zharr is split up into Seats and Districts. These are essentially talent nodes divided into sections, and when a section is filled, it will unlock a passive effect. Once two of the three Districts have been completed, the next tier of Seats will unlock.
In addition to sharing the tree with other Chaos Dwarfs, you can steal Conclave seats from them by paying additional Influence. This will make them angry with you but can be a great way of maintaining a hold over the most important seats.
Once a district is completed, all Chaos Dwarfs will gain the district buff, so you can work cooperatively to try and gain as many of these buffs as possible. As the Conclave tiers progress, the seats will cost more and more Influence to purchase.
A good strategy can be to save up Influence for higher tier seats while letting the A.I. purchase the worst lower tier ones, thereby unlocking the next tier for you to jump in.
Some of the best Conclave seats include:
| Seat Name | Tier | District Type |
| --- | --- | --- |
| Machinator | One | Industry |
| Black Smith | One | Military |
| Cardinal Daemonsmith | One | Sorcery |
| Expounder General | Two | Industry |
| Conscriptor | Two | Military |
| Grand Reaper | Two | Sorcery |
| High Commissioner | Three | Industry |
| Infernatus | Three | Military |
The fourth and final tier of Seats contains three special effects, whereby it will Confederate specified Chaos Dwarf factions. Note that you cannot Confederate other players.
Legendary Lords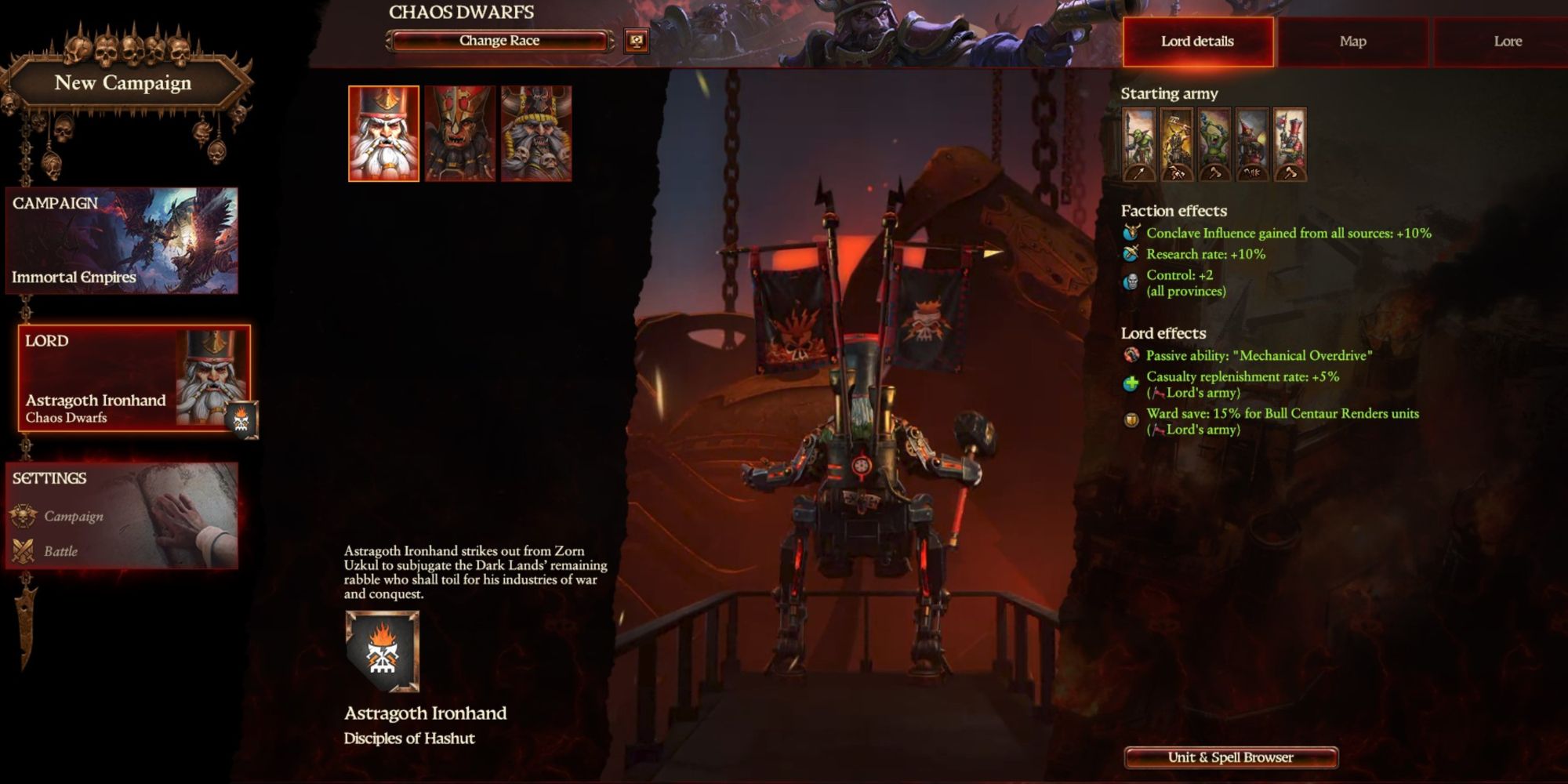 The Chaos Dwarfs come with a choice of three Legendary Lords and one Legendary Hero.
Gorduz Backstabber specialises in boosting Hobgoblin units and is best utilised to supplement your main early-game army before being transitioned into a Hobgoblin stack.
This is due to you eventually wanting to field your best units recruited from upgrading your army capacities, which Gorduz does not have any buffs for.
These do not include Hobgoblins, but Gorduz can still turn a cheap stack into a strong force, so try and keep him surrounded by as many non-Dwarf units as possible.
Gorduz is recruitable by all Chaos Dwarf factions, and you will receive his unlock quest (to field eight units of Hobgoblins) after building your first Hobgoblin Mustering Camp.
Legendary Lord

Description

Tips

Astragoth Ironhand

Strong spellcaster with a mixed lore of Fire and Hashut, backed up with decent melee capabilities. Possesses a well-rounded set of faction and lord effects.
Lord Effects: Increased Casualty Replenishment for his army, stacking buff to his melee stats for each kill, and Ward Save for Bull Centaur Renders.

The best all-round Chaos Dwarf lord, Astragoth has a strong starting army but a tricky initial starting position.
You start very close to Grimgor Ironhide, who can be a major thorn in your side if he is allowed to build up strength.
Either deal with Grimgor early or try to befriend the Norscans and Chaos to your North, as they can aid you in delaying Grimgor long enough for you to build up your infrastructure.
Expand South and try to rush early Blunderbuss and Chaos Dwarf Warriors.

Drazhoath the Ashen

Very tanky spellcaster lord with a mixed lore of Fire and Hashut.
Lord Effects: Campaign movement range increase, Melee Attack increase aura, reduced upkeep for K'daai units.

Drazhoath has the most difficult starting position, as you are surrounded by enemies, some of whom are quite strong early on.
Try to take out Clan Rictus after obtaining your starting province, and then either travel North to meet up with Astragoth, or South to deal with Imrik.
Try to get some early K'daai Fireborn units, as your passive effects will reduce their upkeep, and prioritising a K'daai Destroyer doomstack in the late game is very viable.

Zhatan the Black

Melee focused lord with some very strong army buffs. Can act as an effective tank.
Lord Effects: Extra casualties captured post-battle, increased local recruitment, active hex ability that Roots enemies.

Zhatan is the most straightforward legendary Chaos Dwarf lord and has the easiest start position.
Traveling to your East to take out Vilitch before assaulting Cathay from the North is your bread-and-butter strategy and leaves you a safe corner of the map from which to expand.
Make friends with Kholek Suneater, and then the only enemy you need to worry about from your West is Grimgor, who can often be too busy elsewhere to bother you.
NEXT: Total War: Warhammer 3 – Daemons Of Chaos Beginner Guide